Baby Vader Passat advert goes live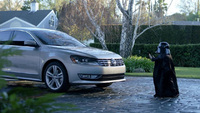 It's an advertising campaign which needs little explanation: a young boy, dressed as Darth Vader, attempts to use 'the force' to bring to life everyday objects from around the house and garden. The force does not seem strong with this one… until a timely intervention by his father via the Volkswagen Passat's remote key fob occurs. The lights flash, the doors lock – and faith is revived in the young one's Jedi powers.

A US version of the advertisement was aired during the Super Bowl XLV earlier in the year and was heralded as one of the finest moments of the event. It also became an internet sensation, with over 37 million hits on YouTube.

Now it's the turn of the UK. Eagle-eyed spectators will have seen it played on the screens erected for the Royal Wedding in Hyde Park on Friday, and the advert will be shown on UK television from tomorrow – May the Fourth. The campaign will run for six weeks.

Responsible for the campaign in the UK is Volkswagen's Communications Manager, Danny Hill. He comments: 'It's a charming ad with great music and has the universal appeal of Star Wars.'

He adds: 'It captures the imagination and ties in well with our message about the Passat's clever technology. It was such a success in the States that it seemed a shame not to share it with a wider UK audience.'

The seventh generation Passat went on sale in the UK in January. For more details go to volkswagen.co.uk/passat.

To view the advert go to the Volkswagen UK Facebook page (from 4 May). Here you can also see an interview with the star of the ad and outtake clips from the 'making of' the advertisement: facebook.com/volkswagenuk.