Hop across the Channel for near double-digit price increases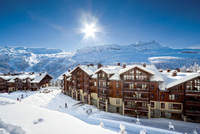 Investors looking to purchase overseas should hop across the Channel to France where near double-digit price increases have been recorded say the experts at Experience International.
According to the latest Knight Frank Global House Price Index, France saw a 9.5% annual increase in prices in Q4 2010 compared to the same period 12 months ago.
Steven Worboys, MD of the French property experts at Experience International, comments, "Surpassed within Europe only by Latvia (16.9% annual price increase) and Austria (9.9%), the near double digit annual price increase is highly indicative of the robust nature of the French property market. The unique conditions we find ourselves in today with the lowest interest rates since WW2, strength of the pound and rising prices make this the perfect time to buy."
And it would seem that this message is hitting home with the FNAIM (Federation National de l'immobilier, the French estate agents' body), reporting a 15% rise in the number of property purchases in 2010, some 700,000, compared to 2009.
Indeed purchasing activity for 2011 is also looking strong with research from Rightmove Overseas and Moneycorp showing a 53% increase in buying property abroad in February 2011 compared to the precious month with France the second most searched for country.
As Steven Worboys continues, "Markets such as Spain and the USA may see high levels of buyer interest however making a safe and secure investment for the future should be the priority for today's purchasers. There may be bargains to be had but at what cost? We advise all clients to do their due diligence and look for the market fundamentals which make a successful investment."
One of the key appeals of investing in France is the leaseback program which has for over 40 years offered the best of both worlds with guaranteed rental returns for 18 years plus as well as personal usage options. Returns may not be as high as some emerging markets but they are reliable, giving investors that all important peace of mind.
Les Terrasses D'Helios is one example of a superb leaseback development located in the popular ski resort of Flaine which offers 1, 2 and 3 bedroom apartments with stunning views of the Grand Massif ski domain.
Investors can enjoy up to 3.50% guaranteed rental income for 18 years or more in addition to expected capital growth of 7% and personal usage options. As with most leasebacks, VAT is paid saving a further 19.6% and up to 100% finance is available making the €237,000 apartments highly affordable.
For more information on investing in France or Les Terrasses D'Helios, visit experience-international.com.