Big things happening in Bloomington, Minnesota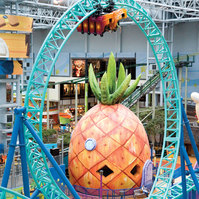 Bloomington, located in the heart of Minnesota, is gearing up for a busy Pow Wow 2011 in San Francisco with the announcement of many new attractions and events taking place throughout the year.

Hotels Update

Bloomington, home to the Mall of America, receives 40 million visitors every year, the majority in search of tax free bargains at North America's largest mall. The area is now building on its notable hotel portfolio with the addition of two new properties to cater to its throng of domestic and international visitors.

The Best Western Plus Hotel is the latest addition to the town. Featuring 221 non-smoking guest rooms, the hotel also offers guests free deluxe continental breakfast, upgraded bedding packages, large flat-screen televisions, in-room microwave, refrigerator and coffee service, free HSIA, and an iPod dock/charger. The Red Rossa Italian Grille and Bar is set to open summer 2011.

Radisson Blu recently announced plans to open the Radisson Blu Mall of America hotel in Bloomington. Work has already begun on this $115 million project with an opening scheduled for late 2012. The hotel will boast over 500 bedrooms and will be located on the South Side of the Mall connected via a skyway.

Attractions

The popular Big Ticket attraction Pass will soon expand to now offer six attractions with the addition of Water Park of America. The 3-day attraction pass will allow purchasers to visit Nickelodeon Universe, Sea Life Aquarium, Minnesota Zoo, Great Clips IMAX Theatre at the Minnesota Zoo, Science Museum of Minnesota and Water Park of America. Attraction passes can be purchased online at bloomingtonmn.org.

Mall of America continues to push the boundaries with the ultimate shopping experience. Late 2010 saw the South Avenue area updated to include 16 new upmarket stores and boutiques catering to the more discerning customer, and now some of the mall's entertainment destinations are also making improvements. Recently the Sea Life Minnesota Aquarium and the LEGO Store, both located in the mall, underwent complete renovations. Formerly known as Underwater Adventures Aquarium, the new Sea Life Minnesota Aquarium offers fascinating new displays, cool hands-on activities for kids, tons more sea creatures than ever before and an ocean full of fun. The remodelled LEGO Store now features a giant pick-a-Brick wall with 180 different LEGO elements to choose from, a variety of play tables to inspire creativity and eight larger-than-life models including a LEGO robot towering over 34 feet tall!

With an impressive line up of stores, ranging from Abercrombie to Zales, Mall of America is excited to welcome the following new retailers in 2011: Michael Kors , Stuart Weitzman, Armani A|X , Naartjie Kids, Bettie Page, See's Candies, Merrell Shoes and Sky Deck Sports Grille and Lanes . Visit bloomingtonmn.org to see a complete list of Mall of America stores and attractions.