Clarion joins Peugeot in the fast lane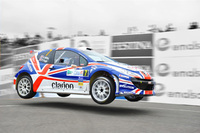 Six years after last sponsoring the Peugeot World Rally Championship team, and underlining its significant, long-standing supplier relationship with Peugeot, major in-car entertainment brand, Clarion GB has again joined forces with the ultra-successful marque, pairing with Peugeot UK in their bid to win the 2011 Intercontinental Rally Challenge (IRC).

Peugeot has an illustrious history in rallying and has enjoyed great success in the IRC, claiming drivers' and manufacturers' titles since joining the series at the outset.

This year's punishing 12-round tarmac and gravel rally series visits seven countries between January to November, and the Peugeot marque is represented by a series of national teams running the spectacular Peugeot 207 S2000, developed by Peugeot Sport in France.

The Peugeot UK team is headed by new British driver/co-driver pairing of Guy Wilks of Co. Durham and co-driver Phil Pugh, from mid-Wales. With a third and fifth place under their belt from the first two rounds, at the time of writing the team are eagerly awaiting the next outing in Corsica, the Tour de Corse - traditionally known as the 'Rally of 10,000 Corners' due to its high frequency of turns - on May 12/14.

The Peugeot 207 S2000 Evolution in which the team is contesting the series, is the latest offering from Peugeot, the most successful manufacturer in the IRC with 20 wins to its credit.

The 207 S2000 is a standard production Peugeot 207 at heart, but performance is transformed by just a few 'adaptations'…including 4-wheel drive, a 2.0 litre powerplant developing 300bhp, and a 6-speed sequential gearbox to deliver electrifying performance.

Commenting on Clarion GB's sponsorship of the Peugeot UK IRC team, General Manager, Graham Case, said: "We are delighted to renew our long and highly successful motorsport sponsorship relationship with the Peugeot marque, and specifically Peugeot UK, with whom we enjoy a mutually-beneficial business relationship in the supply of Clarion audio and multimedia products. We wish the team continuing success in their bid to win the 2011 Intercontinental Rally Challenge."