Free eco makeover for Peckham home buyers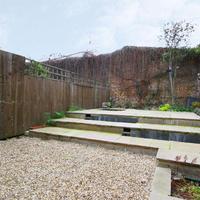 "Properties located in the leafy Low Carbon Zone of Peckham are a dream for environmentally friendly buyers as they offer the potential for a free refurbishment and involvement in one of the most anticipated regeneration projects of the next decade," says leading South East London estate agent, Wooster & Stock.
Becky Munday, Head of Sales, Wooster & Stock, comments: "Peckham's Low Carbon Zone is designed to help Peckham become a vibrant, clean and green place to live, by reducing the business and residential carbon footprint. It will also assist in the battle against climate change, pollution and waste."
As part of the Lord Mayor of London's initiative, residents in the Peckham Low Carbon Zone will be eligible for a number of home upgrades to lower each property's carbon footprint. Council-funded initiatives will include the regeneration of all garden walls and brickwork with a number of home owners entitled to improvements to external and internal insulation, new roofing, the installation of solar thermal heating and photovoltaic solar panels. Some residents will also receive new boilers.
Becky continues: "The introduction of the low carbon zone has been long awaited and there has never been a better time to invest in SE15 property than now. Buyers can get a spacious home in a great location, with the added benefit that much of the cost associated with any required cosmetic or eco-friendly upgrade will, in most cases, be funded by the council. It is as if residents are receiving a free eco-makeover."
In the centre of the Low Carbon Zone is a wonderful three-bedroom cottage on the quiet cul-de-sac, Holbeck Row. On the market with Wooster & Stock for £365,000 this contemporary home offers a spacious kitchen, period fireplaces and the master bedroom features a funky purple feature wall. There is a low maintenance, paved rear garden which is perfect for entertaining and the Victorian home also benefits from a new boiler and new windows.
Another house available in the Low Carbon Zone through Wooster & Stock is a classic four-bedroom terrace property on Peckham Hill Street. On the market for £545,000, the Regency / Victorian home is spread over four spacious floors and combines traditional charm with modern convenience. There are a number of period features including gorgeous fireplaces and a stunning split level garden, with paved patio area.
Down the road, Wooster & Stock offers first-time buyers the opportunity to enter the property market and benefit from the forthcoming low carbon regeneration. On the market for £215,000, a charming one-bedroom split level flat is available in a late Victorian, mid-terrace building. It features stunning high ceilings, glossy hardwood floors, bright décor and an original curved wall which overlooks greenery to the rear of the property.
Superbly positioned near to the lively restaurants, bars, cafes and boutiques of vibrant Camberwell and Bellenden Road, these properties offer something for everyone. The area is perfect for families, providing access to a variety of green parks and gardens and the best of the Dulwich schools and there are outstanding transport links for commuters, connecting Peckham Rye station to central London in under 20 minutes.*
Becky adds: "Properties in the Peckham Low Carbon Zone really are a must see. They offer space, convenience, affordability and importantly, the potential to be involved in one of the largest eco-friendly initiatives in the country.
Wooster & Stock is a leading online estate agent based in South East London. For further information on these or any other properties, visit: woosterstock.co.uk
*Source: www.tfl.gov.uk