No limits for 170mph Insignia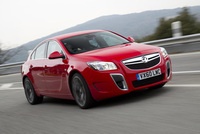 Taking a leaf from the legendary Lotus Carlton's book, the latest Insignia VXR turns up the heat still further with the launch of a de-restricted package, allowing the car to achieve 170mph.

Known as 'Unlimited' option, it removes the 'regular' Insignia VXR's 155mph restrictor, allowing the range-topper to exploit its all-wheel-drive chassis dynamics to the full.

Available with either manual or auto transmissions, and in Hatch, Saloon and Sports Tourer body styles, a car fitted with the Unlimited option is visually distinguished by a blue Brembo logo on its front brake callipers and a newly-designed tachometer and speedometer, showing higher increments.

Producing 325PS, the VXR's turbocharged 2.8-litre V6 engine is one of the most advanced units of its kind, and allows the Insignia VXR to accelerate from 0-60mph in as little as 5.6 seconds for the manual Hatch, a time which is unchanged with the Unlimited option.

And with this renewed performance potential, owners can gain even more reassurance from the Insignia VXR's innovative Adaptive 4x4 system, which provides optimum traction in all conditions. The system uses a sport differential with a Haldex multi-disc clutch as well as electronic centre and rear limited slip differentials (eLSD), and is complemented by Vauxhall's FlexRide chassis, which allows drivers to choose between three dynamic setups: standard, Sport and VXR.

But just to ensure that Insignias fitted with the Unlimited option were safe, durable and entertaining to drive, prototype vehicles underwent extensive testing at the gruelling Nurbürgring's Nordschleife (north loop), where 10,000 validation kilometres were accrued. The test programme is rated at 'factor 18', which corresponds to 180,000kms (112,000 miles) on normal roads.

"For those owners who enjoy driving on the continent, the Unlimited option lets them experience the Insignia VXR's true top speed, combined with the peerless stability and secure handling that only an all-wheel-drive chassis can offer," said Stuart Harris, Vauxhall's Group Product Manager.

The Insignia VXR's Unlimited option costs just £250 and is available immediately through Vauxhall dealers.