Volvo Trucks tablet magazine available on Android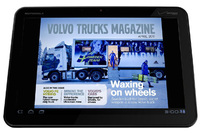 A new issue of Volvo Trucks' tablet magazine, which was successfully launched for the iPad in January, is now available – this time also for Android tablets.

"The first issue, which was available for the iPad, was very well received. However, by now making this next issue also available for Androids, we hope even more people will enjoy our coverage," says Tommy Kohle, Senior Vice President Corporate Communications at Volvo Trucks.

In the new issue of the magazine, readers can, for example, learn more about the importance of driver feedback in Volvo Trucks' cab development meet the Swedish national biathlon team and their new mobile ski-waxing workshop and visit the Ukraine, where Volvo trucks are taking the country's largest manganese mine into the 21st century.

The new issue of Volvo Trucks Magazine can be downloaded free of charge. iPad users can access the magazine from the App Store, whilst Android users can get it from the Marketplace.