All new Suzuki GSX-R600 makes 0% APR finance debut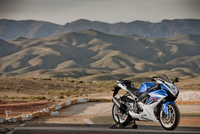 After enjoying huge critical acclaim at its launch and going on to be hailed as the 'new king of supersports', Suzuki's GSX-R600, will make its debut on 0% APR finance later this week, with a deposit of just one pound required thanks to a new promotion that covers the GSX-R600 and three other key new models.

Available on the GSX-R1000, GSX-R600, GSX1250FA and GSX1250FA ST, the new offer enables customers to literally ride away after putting down a deposit of just £1, with no interest to pay for the remaining 36 months either.

With the new GSX-R600 taking the motorcycle world by storm, Motorcycle News hailed it as 'the new king of supersports', while Performance Bikes Magazine declared it 'the 'best 600 we've ever ridden', before the GSX-R600 went on to beat its rivals in group tests too.

Suzuki GB sales and marketing director, David Taylor commented, "After combining 0% APR finance and a deposit of just one pound, this promotion really helps our customers to ride their dream model right now, as the season starts. With the GSX-R1000, GSX1250FA and GSX1250FA ST also included, its a broad offer of great value and choice on key machines."

As well as the 0% APR finance offer, Suzuki GB is pleased to offer a range of finance offers at present, including a low rate, low deposit offer and Suzuki's PCP RiderPlan scheme too. For more information please visit suzuki-gb.co.uk.