Quiet debut for electric Land Rover Defender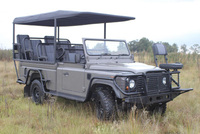 Axeon has worked closely with Jaguar Land Rover South Africa to produce an all-electric version of its iconic Defender model for use in game parks, minimising both environmental and noise pollution.

The battery system produced by Axeon, Europe's leading independent developer and manufacturer of lithium-ion battery systems, has been fitted to a Land Rover Defender 110 High Capacity Pick Up in place of the standard 2.4-litre diesel engine.

Unlike many electric vehicle battery packs that are positioned in the floor of the vehicle, the Axeon pack has been designed to fit into the vehicle's engine bay in order to maintain ground clearance and wading height for this unique vehicle.

The bespoke battery system also incorporates Axeon's proprietary Battery Management System (BMS), which monitors the battery state, measuring and controlling key operational parameters, thus ensuring safety – particularly important for an electric vehicle that may encounter harsh conditions.

The replacement of the engine means that the production vehicle's tailpipe carbon dioxide emissions of 295g/km have been reduced to zero and the electric Defender is also able to operate very quietly. In testing the range was shown to be capable of 3 times a typical game drive on a single charge.

The short development timescale of the battery was achieved by deploying Axeon's accumulated experience in the design and manufacture of lithium-ion battery systems, and by working actively with engineers from both Land Rover and their South African partner Barker Performance Products.

The electric Defender has been received well by experienced Land Rover drivers, including those from the official Land Rover Experience, and it has performed exceptionally well on the rigorous and gruelling Gerotek test facility. In testing, the vehicle has also been able to get closer to animals within the game park due to its much quieter operation.

Whilst the electric Defender has been designed specifically for the game park sector, there are numerous other potential applications for such a vehicle, where reducing environmental and/or noise emissions are a priority.

The electric Defender will be launched as a concept vehicle at INDABA, one of Africa's largest tourism events, held in Durban, South Africa, from 7th to 10th May 2011.