Vauxhall vans top the charts again in April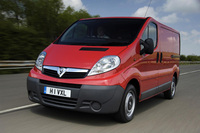 Vauxhall Commercial Vehicles has cemented its place at the top of the retail sales charts with April volume up 68.69 per cent year-on-year, according to figures released by the Society of Motor Manufacturers and Traders.

Vauxhall is also number one in retail sales for the year-to-date, up 59.00 per cent year-on-year.

The British-built Vivaro was number one in the highly competitive retail medium van segment, and Combo was top of the pack in the total light van segment. Vauxhall's retail van sales were supplemented by the offer of four years' 0% APR finance, four years' free servicing, a four year-warranty and four years' AA cover.

"April was another excellent month for Vauxhall Commercial Vehicles," said Richard Collier, Vauxhall's National Commercial Vehicles Sales Manager. "I am pleased that we are number one in retail again and in consecutive months after being top of the pack in March."

Vauxhall is the UK's largest manufacturer of commercial vehicles building over 77,000 vans at its plants in Luton, Bedfordshire and Ellesmere Port, Cheshire last year.