Renault toughens qualifying criteria for its eco2 signature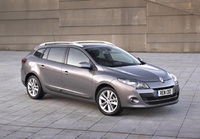 Since 1995, Renault has pursued an environmental policy that seeks to factor in environmental impacts at each stage of a vehicle's life cycle. The flagships of this drive are the fully-electric Z.E. family, a range of four vehicles set to enter the market by mid-2012. Now, to mark the fourth year of its eco2 environmental signature, the company is toughening up the selection criteria for its most ecological and economical vehicles.

Tougher eco2 signature criteria
In addition to its commitment to offering a range of electric vehicles for all, Renault is looking to reduce the environmental impacts of its cars at each stage of their life cycle. To make the grade, vehicles must now:
be manufactured at an ISO 14001-certified plant
emit less than 120 g/km of CO2 (down from 140 g/km previously) or run on biofuels
contain at least 7% recycled plastic (up from 5% previously) and be designed so that 95% of their mass can be recovered at end-of-life

Ambitious carbon footprint target
A car's carbon footprint is the quantity of carbon emitted during each stage of its life cycle from extraction of raw materials to the end of its life.

As part of its Renault 2016 - Drive the Change strategic plan, Renault has committed to cutting its carbon footprint by 10% between now and 2013, plus a further 10% between 2013 and 2016.

Renault is constantly striving to reduce vehicle CO2 emissions: from 135 g/km today, its European range is expected to lower average emissions from 120 g/km in 2013 to less than 100 g/km in 2016.

Renault reaped the rewards of this pro-active policy in the recent carbon ranking established by British NGO, Environmental Investment Organisation (EIO), in which it came out top as the company in the automotive sector emitting the least CO2 in Europe. Renault also won a prize in the production category at the Sustainable Energy Awards for its plant in Tangiers.

Customers can find further information at renault.co.uk.