Award-winning Fiat Doblò Cargo is best light van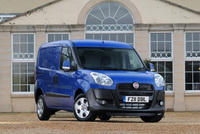 Fiat Professional's award-winning Doblò Cargo van is in among the accolades again after winning a top category in the 2011 Van Fleet World Honours for the second year in succession.

The commercial vehicle, which went on sale in the UK in March 2010, has just been named Best Light Van in the latest Van Fleet World awards, the same title it took last year.

Following on from the original Doblò Cargo, which was first announced in 2000, the new model upholds its predecessor's reputation as a tough vehicle for the professional driver, but with even greater practicality, versatility, comfort, safety and fuel efficiency.

With impressive carrying capacity and new suspension for a superior ride, the Doblò Cargo has a range of Euro 5-compliant engines to make it cleaner and cheaper to run. And the van's Start&Stop system stops the engine automatically, without the driver turning the ignition key, whenever traffic conditions bring the vehicle to a complete halt; restarting it when the driver wants to move off again.

Van Fleet World editor and panel judge, John Kendall, says: "When Fiat's Doblò Cargo was launched last year, the model took the kind of step forward it has needed for the past few years. It is not only a significantly better van than its predecessor, but was the first van to offer a start/stop system as standard with 2-litre diesel powered versions. Among its attributes are new engines, and a larger body option in the UK for the first time. This is a well thought out vehicle that's good to drive."

"From launch, the new Fiat Doblò Cargo has been received brilliantly by customers, businesses and the media," says Gerry Clarke, director, Fiat Professional. "And it's important to us that it keeps winning awards too, as that underlines the vehicle's dominance in a tough market. To win one Van Fleet World Honours is a wonderful achievement, so two in a row is very pleasing."

The Fiat Doblò Cargo starts at £11,395 (basic price) for the Cargo 1.4 16v Petrol, rising to £16,295 (basic price) for the diesel-powered Cargo Maxi SX 2.0 MultiJet 16v.