Land Rover Discovery 4 named Diesel Car's 'Best 4x4'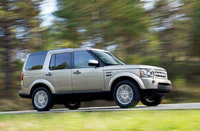 One year on there is still nothing to rival the Land Rover Discovery 4 as it claims its second successive 'Best 4x4' title in the 2011 Diesel Car awards.

Announcing the award, Diesel Car Editor Iain Robertson declared: "If there is a more all-round capable car than the Discovery 4, we have yet to encounter it. With the latest generation Discovery you get everything you need to drive absolutely everywhere."

The Discovery 4 was in good company in the competition, with its sister Freelander 2 model also in the final running, continuing to impress the judges after winning the title in 2008 and 2009 and being a finalist in 2010. The British-built Discovery 4 also triumphed over the BMW X5 in the final reckoning.

The Diesel Car accolade confirms the breadth of capability of the fourth generation Discovery, a model that has picked up a raft of industry honours since its launch in 2009. These include the 2010 What Car? 4x4 of the Year and 2009 Scottish Car of the Year titles, plus two awards in the 2010 Towcar of the Year contest. Most recently it was named Best Luxury 4x4 by Carbuyer.co.uk.

Colin Green, Managing Director Land Rover UK said: "We are thrilled to receive this award, doing so for a second year running shows that the Discovery 4 continues to hold a clear advantage over its market rivals. And with Freelander performing so strongly, we can be proud of the strength-in-depth of our engineering, design and performance."

The Land Rover Discovery 4 is available from £36,785 and delivers a winning package of impressive on-road dynamics, superb all-wheel drive capability and sophisticated, contemporary design, exemplifying the qualities at the heart of all today's Land Rover models.

For more information or to book a test drive please visit your local Land Rover dealer or log onto landrover.co.uk.