Honeymoons in Vietnam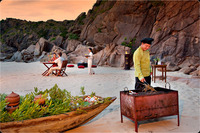 Beautiful resorts and spas, majestic scenery, a rich traditional culture, easy going and welcoming locals, great food and solid tourists infrastructures - it's easy to understand why Vietnam is fast becoming a favourite destination for honeymoon couples.
In the north, wander the charming colonial boulevards of Hanoi. The Sofitel Legend Metropole Hanoi Hotel rivals the finest hotels you'll find anywhere, and the restaurants and eateries will delight your senses. Enjoy the finest cuisines at award winning The Hanoi Press Club, Wild Rice and the elegant Mandarin Restaurant in the Westlake. The sensuous, serene scenery of Halong Bay is an absolute must-see in the north.
And a trip to central Vietnam would not be complete without exploring the majesty of Hue, the former imperial capital and atmospheric Hoi, a UNESCO-designated World Heritage Site and riverfront port town crammed with historic homes, tiny museums, stylish cafes, and bustling silk and fish markets.
Next fly to the resort town of Nha Trang to spend several days in a secluded private villa overlooking beautiful Ninh Van Bay at the Evason Hideaway Ninh Van Bay. Snorkel or dive among the coral reefs in crystal blue waters, hike nature trails, cool off in your own private plunge pool, indulge in spa treatments or just relax on the white sandy beach and admire the unspoiled mountain and sea views.
Farther south, entertain the senses in Ho Chi Minh City . As you travel from north to south, share the pleasure of relaxing in tranquil beach resorts, exploring unspoiled architectural majesty and meeting friendly locals.
No honeymoon is complete without a beach stay. It is easy to fall in love with Nha Trang and Phu Quoc, Vietnam's premier beach destinations, dominated by golden sand, crystalline waters and underwater adventures. Indulge yourselves completely in the serenity of exclusive resorts in these honeymoon gateways, where unparalled luxury and personalised services are the order of the day.
"During your trip in Vietnam, there are ample opportunities to savour local specialties at some of the country's best tables. Balancing luxury, adventure and blissful relaxation, this itinerary is meticulously designed to leave you and your beloved with memories of a lifetime" said David Nguyen, sales and marketing manager of Luxury Travel Ltd.
For a tailor-made honeymoon in Vietnam, email honeymoon@luxurytravelvietnam.com or visit: luxurytravelvietnam.com