New HomeBuy Direct homes coming to Corby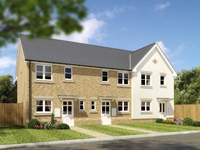 Construction work is well underway by Westleigh New Homes on a scheme of 18 new homes in Corby, all of which will be available under the Government HomeBuy Direct equity loan scheme.
Bradley Place is situated on Rockingham Road and will comprise two- and three-bedroom homes and the first homes are expected to be ready in June.
All homes will be finished to a high specification with contemporary fitted kitchens with stainless steel appliances. Modern bathrooms complement the specification and some three-bedroom homes will have an additional en-suite shower room.
The HomeBuy Direct scheme allows people to buy a new build home with a mortgage from 70% of the purchase price, while the remaining 30% is provided by an equity loan from the Homes and Communities Agency and the developer.
It is open to first-time buyers, key workers and others who are currently renting. People who have previously owned a home but are now unable to do so – perhaps where relationships have broken down – can also apply.
To be eligible households will be earning less than £60,000 and would not normally be able to afford to buy a suitable property on the open market. There is no interest to pay on the equity stake for the first five years, although a small fee will be charged from year six onwards.
Buyers can redeem the loan in instalments, purchasing up to 100 per cent of the equity after their initial purchase by buying additional equity at the market rate. Alternatively, if they sell their home, the equity loan is repaid by way of a proportionate share of the sale proceeds.
At the Rockingham Road development, the Homes and Communities Agency (HCA) – the national housing and regeneration body – is investing a total of £3.1m into 67 new affordable homes, which includes the HomeBuy Direct properties.
Sandyha Ward, Area Manager for the Homes and Communities Agency, said: "HomeBuy Direct has helped thousands of people get onto the property ladder where normally they would have struggled to raise a mortgage in the current climate. It will add to the vibrant, mixed community that will develop at the Rockingham Road development."
Robert Orr, from Leicester-based Westleigh New Homes, comments, "Bradley Place will be a delightful development offering new homes for first time buyers and those seeking their next family home. Homes are expected to be ready from this summer onwards but homebuyers are invited to register their interest with us now to avoid disappointment."
The town of Corby is extremely well placed for commuting, with the nearby A14 providing quick and convenient access to the A1, M1 and M6 motorways and other 'A' roads going to Leicester, Kettering and Northampton. Corby railway station also offers hourly services to Kettering, where fast and frequent connections to London St Pancras can be made.
Westleigh New Homes builds contemporary new homes across the Midlands from its base in Leicester and designs homes and specifications with modern lifestyles in mind. It ensures its new homes embrace existing buildings, styles and materials, whilst also ensuring the build has a minimal impact on the local environment. For further information or to register interest, visit: westleighnewhomes.co.uk