Thanet B+B and restaurant special offer for gastro tourists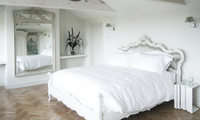 Thanet's best luxury boutique B+B and seafood restaurant have teamed up to provide a special offer for gastro tourists in celebration of each receiving accoldaes in the Coastal Magazine annual awards.
Ramsgate's Eddie Gilbert's, which has grown accustomed to collecting winner's awards, has introduced a special two-course prix fixe "silver surfer" menu for £22.22, to celebrate collecting no fewer than four runner's-up awards in recent weeks.
In the 2011 Coast Magazine awards (featured in the June edition), Eddie Gilbert's was narrowly beaten into second place by Jamie Oliver's Fifteen Cornwall as the Best Seaside Restaurant.
In the same awards Broadstairs' Botany Bay came second in the Best Beach Category. The Thanet Coast Project took the runner-up spot in the Best Green Marine Campaign category. Margate's Reading Rooms was voted second best Boutique Hotel by the Sea.
In April, Eddie Gilbert's was second in the Pride in Thanet's service awards for 'Best Restaurant and its manager, Nick MacAskill, was named runner up in in the 'Best Employee' category – titles they both won last year along with the overall award.
In February, Eddie Gilbert's wet fish shop, which sits under the first floor restaurant, was named second Best Fish Retailer in Taste of Kent Awards, a title it has previously won twice in three years and runner-up for Best Restaurant.
After the initial disappointment of four consecutive runners-up awards, owner Jonny Dunhill decided to celebrate the achievement.
"Having won an amazing number of awards in our short history, coming second can be an anti climax," said Jonny, adding, "But on reflection being voted second best seaside restaurant in the whole country is one hell of achievement."
To mark the four new awards, head chef Craig Mather has created a "silver surfer " 2-course fixed price menu at £22.22. A third course can be added for a total of £26. Choose from: Foraged local wild herbs with home smoked local wild sea trout pavé and a cucumber jelly; Fillet of local wild sea bass with samphire, brown shrimps & salsa verdi; and Home made Arctic roll with a hot berry compote.
The offer runs throughout June.
Other accolades include: Potato Council – National Chip Week Perfection Portion 2010 – Finalist, Kent Restaurant Awards 2009 Best Newcomer, The Observer - Best Starter 2010.
Visitors looking to dine at Eddie Gilbert's and stay at Margate's highly acclaimed Reading Rooms B+B midweek, receive a complimentary taxi to and from the restaurant. Reading Rooms is a luxury boutique bed and breakfast in a recently restored, Grade II listed Georgian town house. Awarded a prestigious 5* Gold by Quality in Tourism, it has three expansive guest rooms, each encompassing an entire floor of the house with windows overlooking a tree lined Georgian square.
Eddie Gilbert's opening times: Monday to Saturday 11.30am – 2.30pm, 5.30pm – 9.30pm. Sunday 12.00am – 2.30pm
Eddie Gilbert's, 32 King Street, Ramsgate CT11 8NT
Reading Rooms, 31 Hawley Square, Margate, Kent CT9 1PH
Web: readingroomsmargate.co.uk