Iveco at Challenge Bibendum 2011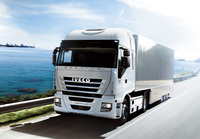 Iveco will be at Challenge Bibendum 2011, the world's top event in the field of sustainable mobility, organised by Michelin and held in Berlin from 18 to 22 May. This important annual forum uses conferences and test drives to focus attention on road transport and future technologies for sustainable mobility.

Challenge Bibendum 2011 returns to Europe this year after a successful trip to Rio De Janeiro in Brazil in 2010. The 2011 event is dedicated to the theme of "Clean-Safe-Connected" mobility, three key concepts for future mobility, and three areas of innovation in which all the main players in the transport industry are involved.
Clean: cleaner and – ideally – zero emissions mobility.
Safe: accident-free mobility.
Connected: intelligent and interconnected mobility.

Iveco has adopted these objectives as its own and at Challenge Bibendum 2011 is presenting a series of advanced technological solutions along with a vast and varied offer designed to meet the multiple needs of all transport professionals. The company's objective is to make available to customers a range of the most innovative products aligned with the needs of sustainable mobility yet continuing to maintain a realistic and pragmatic approach to business.

The Iveco stand
The Iveco stand will be located inside Hall 1 of Berlin's old Tempelhof airport. The stand will cover an area of 100 m2 and will feature the Iveco Glider, the concept truck designed to maximise productivity, energy saving and driver comfort.

Through the Glider concept, Iveco wants to highlight its ongoing research into new technological solutions for the future, steadily pursuing its efforts in research and innovation considering it to be the best investment to build the "reality of the future".

The Iveco Glider incorporates a series of innovative solutions for boosting productivity, energy efficiency and driver wellbeing on long routes. The concept promises impressive fuel-saving potential (with consumption estimated up to 40 per cent lower than a conventional diesel truck). This is achieved by means of the on-board generation of renewable energy by photovoltaic panels, kinetic energy recovery, exhaust gas heat recovery, a high efficiency architecture based on solutions like a beltless engine and the latest generation of thermal and auxiliary systems. The Glider's design also focuses on reducing resistance to motion, especially aerodynamic drag and rolling resistance.

In addition to the Iveco Glider, and in keeping with the spirit of Challenge Bibendum 2011, there will also be other Iveco "Clean-Safe-Connected" vehicles on show outside, where visitors can drive them around a specially prepared circuit.

The solutions Iveco is proposing for urban missions consist of an ECODaily Electric 35S with a 60 kW drivetrain (in conjunction with DHL Deutsche Post); an ECODaily diesel-electric hybrid with an FPT Industrial 85 kW diesel engine and a 32 kW electric motor; and a 7.5 tonne Eurocargo diesel-electric hybrid with an FPT Industrial, Euro 5, tector diesel engine delivering 160 hp (118 kW) of power, combined with an electric motor-generator with a maximum power output of 44 kW. The heaviest of Iveco's urban eco-vehicles on display will be the 26 tonne Stralis CNG 6x2, powered by a natural gas-fuelled FPT Industrial Cursor 8 engine developing 270 hp (200 kW).

For the long distance transport sector, Iveco will be presenting an ECOStralis AS440S46T/P in Berlin, equipped with an FPT Industrial Cursor 10 diesel developing 460 hp (338 kW).

Irisbus, the Iveco company that specialises in public transport, will also have two models on display at Challenge Bibendum 2011. These will be a 12 metre Citelis diesel-electric hybrid with an electric traction motor developing 175kW of power and an FPT Industrial, EEV, tector 6 diesel engine of 300 hp (220 kW). The latest addition to the Irisbus coach range will also be on show: the Magelys Pro. Featuring an FPT Industrial, Euro V, 380 hp (280 kW) Cursor 10 diesel combined with a ZF 6S1600 gearbox, this vehicle was first presented to the public in Syracuse in March 2011.

All diesel and hybrid vehicles in the external test area will be fuelled by HVO (Hydrotreated Vegetable Oil), supplied for the occasion of the event by the Neste Oil company. This advanced synthetic bio-fuel can reduce well-to-wheel CO2 emissions by up to 80%. The combination of alternative traction and fuels, in fact, guarantees the best results in terms of reductions in fuel consumption and emissions of carbon dioxide.

Further information is available on request for any of the exhibits highlighted above.