TwinAir triumphs at the International Engine of the Year Awards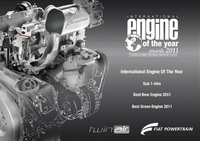 An array of victories have been awarded to the revolutionary TwinAir engine by Fiat Powertrain, as part of the International Engine of the Year 2011 competition. The engine gained a generous four acknowledgements, excelling over the competitors' units in all categories in which it competed.

The jury, consisting of 76 journalists and industry experts from 36 different countries, not only decreed the success of the TwinAir engine in its own displacement category (less than 1,000 cm3), but actually elected it International Engine of the Year 2011, assigning it the top award in the competition. The TwinAir engine by Fiat Powertrain also won the Best New Engine 2011 and Best Green Engine 2011 awards.

An unprecedented triumph, added to the Best New Engine 2010 award which the 1.4 MultiAir Turbo engine was awarded last year, confirmed Fiat Powertrain's leadership in developing and producing small displacement engines with a high technological content and low environmental impact.

Currently available in the 85 HP Turbo configuration in the Fiat 500/500C and, soon, in the new Chrysler Ypsilon, the TwinAir will shortly also be launched on the market in a 65 HP aspirated version and in another high-performance 105 HP Turbo version, at the very top of the category in terms of specific power (120 HP/litre), as well as in the ecological 80 HP Turbo bi-fuel version. The epitome of the downsizing concept, the efficient engines in the TwinAir family feature the sophisticated MultiAir technology for the smart management of the intake valves, which affords brilliant performance levels and, concurrently, extremely low fuel consumption and CO2 emissions.

Members of the jury had some highly flattering comments to make about the TwinAir: "This is proof that aggressive downsizing need not spell timid performance. Surprisingly torquey, impressively and affordably efficient, this tiny twin also has plenty of character," said John Carey, Wheels.

"Four trophies in one year? A remarkable performance! TwinAir has written its place in the history of the International Engine of the Year Awards," said Dean Slavnich, Engine Technology International.

The awards were collected by Eng. Aldo Marangoni, Product Engineering Vice President and by Eng. Dario Sacco, Engines Platform Vice President.

"Today's success is the crowning moment of all our hard work in researching innovative technological solutions and designing increasingly efficient engines. Our engines contribute towards sustaining the leadership position of the Fiat S.p.A. group in the rankings of the most eco-friendly car manufacturers," declared the managers of Fiat Powertrain at the end of the award-giving ceremony.