Leicester hosts first UK Green Film Festival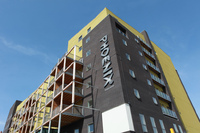 Co-hosted at Phoenix Square in Leicester, the first national UK Green Film Festival is set to run this weekend (Friday 20th to Sunday 22 May 2011); and with the three-day programme now announced, organisers are gearing up to show a selection of the best films, documentaries and shorts highlighting climate change and other environmental issues.
The festival, which is also running in independent cinemas in Cardiff, Glasgow, Leeds and London, includes world and UK film premieres including:
• 'Alma' Patrick Rouxel's stunning documentary on the effects of business on the natural world.
• The story of three men's life-long search for a diet which is good for our health, the environment and the future of our planet in 'Planeat', which was written, filmed, edited and directed by Shelley Lee Davies and Or Shlomi.
• 'Home' (free screening at Phoenix Square on Sunday 22 May). Narrated by Glenn Close, this stunning documentary from Yann Arthus-Bertrand is the astonishing story of mankind's relationship with Earth. With aerial footage from 54 countries, Home is a depiction of how the Earth's problems are all interlinked.
Highlights of the festival for Leicester audiences include the Grindhouse Double Bill: 'Godzilla' (1954) & 'Soylent Green'. With special offers on drinks including bottomless coffee, Phoenix Square is also inviting cinemagoers to bring their blankets and settle in for the two old-school sci-fi films.
Phoenix Square will also host a question & answer session with Richie O'Donnell , the director of compelling documentary film 'The Pipe' which tells the story of a small Rossport community taking on the might of Shell Oil and the Irish State.
To celebrate the inaugural festival, Phoenix Square will become a haven for all things 'green' over the weekend. A host of activities will take place including a workshop on Green Communities from Leicester City Council, and honey tasting sessions and the chance to sponsor your very own beehive from Great British Honey. Morsbags will be on hand to help you transform your spare fabric into a beautiful bag; Complete Wasters will be running their Groovy Record Workshop; and Transition Leicester will be moving their regular Green Light Cafe to Phoenix Square for the Saturday morning.
Igloo's John Long, one of the festival founders, said: "It's been a labour of love for many people to pull this together and I am so pleased to be announcing such a strong line up of films and events at our debut festival. Our hope is that audiences around the country will be informed and engaged by these powerful films, but also entertained and inspired."
Jake Harvey, UK Green Festival organiser for Phoenix Square, added: "We are very excited to be co-hosting the UK Green Film Festival at Phoenix Square. As a Green building, the issue of climate change is very important to us and we are looking forward to sharing an inspirational weekend of great cinema with our customers and fantastic local green groups."
Executive Director of Friends of the Earth, who are supporting the festival, Andy Atkins commented: "We're very proud to be involved in the first UK Green Film Festival. It's a great way to get people thinking and talking about our environment and how we can deal with the challenges we all face, such as climate change."
Also backing the festival is Property Management Consultants GVA. Head of the company John Jones added: "Encouraging communication is a fundamental part of how GVA work. When Igloo approached us about supporting this innovative new venture, it seemed a natural link to enable important message on our environment to reach a wider audience. There is insightful information in these films so we are delighted to help get these stories into the public eye."
To keep updated on the festival and for the full programme guide, visit the website: ukgreenfilmfestival.org