Chalmers goes for growth with Mercedes-Benz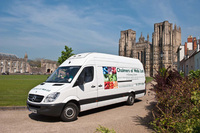 Having built an enviable reputation for supplying its customers with the freshest of produce, Chalmers of Wells appreciates the critical importance of a reliable distribution fleet. No surprise, then, that it puts its trust in Mercedes-Benz.
Prompted in part by the recent introduction of new delivery routes, the family-owned Somerset firm has just invested in three 5.0-tonne Sprinter 516CDI vans and a pair of 7.5-tonne Atego 816 trucks.
All were supplied by Rygor Commercials and are being maintained at the dealer's workshops in Chilcompton. The Sprinters were insulated and fitted with refrigeration units by Atech Coachbuilders, of Westbury, Wiltshire, which also built the Ategos' single-compartment insulated and refrigerated box bodies.
Like Chalmers' other vehicles, the new arrivals are the subject of three-year contract hire deals with Mercedes-Benz CharterWay, a commercial vehicle brand of Mercedes-Benz Financial Services.
Founded in 1972 and based on the Underwood Business Park in the city of Wells, Chalmers prides itself on its "honest, traditional values of quality, reliability and value for money".
The firm supplies a wide range of fruit and vegetables, dairy products and bread, to a clientele that includes pubs and restaurants, schools and colleges, hospitals and care homes.
Its customers are located within a 4,000 square mile swathe of the south-west centred on Somerset and Avon but also taking in the fringes of Devon, Dorset, and Wiltshire.
Chalmers runs 13 trucks and vans, every one of which wears a three-pointed star. Sales & Marketing Manager Tony Maull said: "We used to run a mixed-marque fleet but now favour Mercedes-Benz vehicles because experience has proved them to be outstandingly reliable and cost-effective to run."
Chalmers' vehicles are on the road six days a week, with drivers typically leaving the depot at 4am then putting in an eight-hour shift before returning at lunchtime. "The feedback is always positive and they greatly appreciate the fact that their trucks and vans are so comfortable," continued Mr Maull.
"As an employer which is always conscious of its Duty of Care obligations to staff, the company is reassured too, by the fact that Mercedes-Benz also leads the field when it comes to safety."
Rygor Commercials also scores top marks for its back-up. "The dealer provides a collection and delivery service, maintaining our vehicles during the afternoons so they're always available for use when we need them," confirmed Mr Maull. "It's an excellent service."
For more information, visit chalmersofwells.co.uk.