Comfy camping from Halfords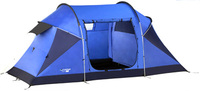 Almost one in two of the people questioned by leisure retailer Halfords were considering a camping holiday in 2010, compared to just one in five in 2009. This year, the number of those opting to holiday in the great outdoors is expected to rise again.
But forget leaky tents and wonky poles, now glamorous camping, or "Glamping" as it is becoming popularly known as in the industry, is the way to go. Today's campers are looking for a more luxurious outdoor experience than a leaky tent in a field.
To cater for the higher quality experience Halfords are exclusively launching spacious and ultra waterproof Lichfield Exceed 4-Man Fistral tent. Priced at £249.99, this extremely waterproof tent is built to withstand the average amount of monthly rainfall in just one day!*
It also has space for four to sleep with room to spare, and comes with a fully sewn in groundsheet, to stop drafts and to keep your tent free from bug & insects. It also features a tent carpet, which has a waterproof backing and a fleecy texture for extra warmth, providing an extra layer of protection against the terrain.
For more information, visit Halfords.com.