Fiat Professional offers special finance package for city CV users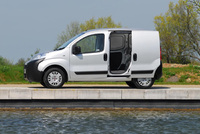 A bespoke finance package on selected Fiat Professional vehicles is being offered to customers affected by next year's implementation of the Low Emission Zone (LEZ) in London.

The main feature of the package is a six-month payment holiday, which in many cases will allow the vehicle to be used with no capital repayment until the LEZ charges come in to place on 3 January 2012.

The van user will be required only to pay the VAT up front. In addition to the payment holiday, an attractive low finance rate of just 1.1 % will be applied to selected vehicles eligible under the scheme. These include: Fiorino Cargo, Doblò Cargo, Scudo Van, Ducato Van and Ducato Minibus.

It means that, for example, a Fiat Fiorino Cargo 1.3 MultiJet 75 including side sliding door, can be driven for as little as £195 per month.

"This is an excellent scheme which will benefit many Fiat Professional customers," says Gerry Clarke, director, Fiat Professional UK. "And it will be extended to vehicles of 10 years or older and to all UK customers – not just those inside the LEZ area. We appreciate that many businesses travel in to London on a daily basis from outside of the LEZ area."

The scheme is further evidence of Fiat Professional giving maximum support to emissions reduction inside London while reinforcing its stated ecological position as a leading environmentally friendly manufacturer.

"I want to make the air cleaner and greener in this great city with the minimum of financial impact for those who need to upgrade their vehicles," says Boris Johnson, the Mayor of London. "I've already given extra breathing space during the depths of the recession before these standards are introduced and I am pleased that a number of manufacturers are now offering new discounts to aid us in our efforts."

Further information on the LEZ is available at tfl.gov.uk/lezlondon and further details on the Fiat Professional offers for the Low Emission Zone, including terms and conditions, are available at fiatprofessional.co.uk/uk/lezok.