Charles Church cuts household carbon footprint by up to 50%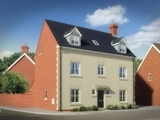 Malmesbury-based Charles Church Wessex, the luxury housebuilder, is so committed to reducing the carbon footprint of its homes that it is now building properties at two developments in the region that are up to 50 per cent more efficient than traditional houses.
Househunters with an eco-conscience can now buy a luxury new home at Manor Park in Melksham and Princes Walk in Salisbury in the confidence that properties are so well insulated energy consumption can be dramatically reduced.
Charles Church's timber frame homes are built and supplied by Space4, the UK's largest timber frame manufacturer. Each wall, floor and roof panel is constructed in a factory, which enables additional insulation to be included in the build process and it is this that reduces the level of energy wasted.
Not only does this save the planet, but it could save pounds too. With the price of household fuels rising each year, an average household could save hundreds of pounds on their fuel bills.
Chris Hagan, managing director at Space4 explains: "We use the very latest insulation techniques to ensure our homes are easy to heat and keep warm, so that the homeowner is comfortable and carbon emissions are lowered and heating bills are kept minimal. In fact, the benefits of our construction methods to the homeowner are so incredible that we have seen sales increase by 50 per cent in the last year."
Bryan Leeming, construction director for Charles Church Wessex, said: "As a luxury house builder we understand that our customers want to live in homes that are not only warm and comfortable but also have a minimal impact on the environment and cost less to heat.
"Our Space4 timber frame homes help us to meet all of these needs while maintaining the high standard of build quality and finish that you would expect from Charles Church."
Manor Park is located on Skylark Road. The development, which nestles in the historic town of Melksham, offers a range of well planned four and five bedroom homes with prices currently starting from £249,995.
Princes Walk on Sherbourne Drive is an exclusive development of three and four bedroom homes situated off the Portway in Salisbury – a picturesque location with easy access to Salisbury City centre. With Charles Church's 85/15 Shared Equity, homes are currently priced from £205,695.
For further information on the range of Space4 homes currently available with Charles Church, visit Manor Park open Thursday to Monday from 10am until 5pm or Princes Walk, open daily from 10am until 5pm.
Information on all Charles Church developments can be found at: charleschurch.com