Grenada wins ninth Gold Medal at RHS Chelsea Flower Show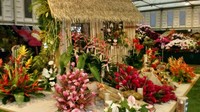 The Suzanne Gaywood - Grenada exhibit at the RHS Chelsea Flower Show 2011, named 'Project Castaway - A Grenada Idyll' has won a coveted Gold Medal, the ninth to be awarded to Suzanne Gaywood the Caribbean island's pavilion since 1998.
Castaway is the theme of the exhibit, and designer Suzanne Gaywood MBE once again takes inspiration for the pavilion from the tropical forests, garden and nurseries of her native Grenada. A feature of Suzanne's exhibit is a bamboo hut topped with a traditional straw roof and just the suggestion of a nearby jetty on a deserted beach.
The focus is the flamboyant array of flowers, foliage and spices that weave a magic that ensures no castaway would wish to leave such a beautiful, tranquil spot. However, Suzanne is keen to raise awareness of global environmental concerns such as global warming and said: "We are campaigning for the lowering of carbon emissions and other measures to ensure Grenada survives as a paradise for castaways for many years to come."
Commenting on her team's achievement, Suzanne said: "We have organised the Grenada exhibit at Chelsea for the past 14-years and it is always a thrill to win a Gold Medal. The pavilion is a showcase for Grenada and encapsulates the lush flora and abundant spices that fill the sea breezes with their delicate fragrances. I'm delighted for each of the growers and gardeners involved and thank them for their hard work and dedication."
The High Commissioner for Grenada, H.E. Ruth Elizabeth Rouse was at Chelsea and commented: "Chelsea is the world's leading gardening event and the exhibit created by Suzanne and her UK and Grenada team provides an authentic and inspiring vision of the Isle of Spice."
All connected with the pavilion express their gratitude to the 2011 sponsors, namely: The Grenada Board of Tourism, Lanwades Stud, Peter and Lana de Savary for Mount Cinnamon and Port Louis, SeaFreight Line, The Calabash Hotel, Coyaba Beach Resort, John and Joan Buckenham, The Horticultural Society of Grenada, Hyde Park Tropical Garden, British Airways (Grenada), Reg and Trish Scarlett, Petite Anse Hotel, Virgin Atlantic and La Grenade Gardens.
Special thanks are also due to the individuals in Grenada and the UK without whose commitment and hard work the enduring success of the Grenada pavilion would not be possible: Catherine John, Kim Henry, John Criswick, Albert St Bernard, Suzanne and Peter Gaywood, Lorna Gaywood, Brian and Sue Cumming, Dave and Jane Weedon, Ivor and Gill Brearley, Kester Worme and Florence Richards.
RHS Chelsea Flower Show remains open to the public until Saturday 28 May 2011.
For more information on Grenada, visit: Grenadagrenadines.com