Mitsubishi supports 'Source London' scheme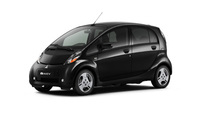 Mitsubishi Motors in the UK are to support the launch of the Mayor of London, Boris Johnson's scheme to implement electric charging points across London. The scheme, Source London, developed in conjunction with Transport for London, is set to deliver at least 1,300 public charging points across the city by 2013. This is part of the Mayor's plan for London to become the electric vehicle capital of Europe, in-line with his commitment to improve air quality by introducing low and zero emission transport. Interestingly, once implementation is complete, it will mean that there will be more electric vehicle charging points in London than petrol stations.

The launch event for Source London took place at Transport for London's chosen location, the Asda supermarket on London Road in Kingston-Upon-Thames at 10am today and showcased the first pure- electric vehicle (EV) available in the UK, the Mitsubishi i-MiEV which was available for journalists to drive.

The Mitsubishi i-MiEV, which first launched in Japan in July 2009, was the first pure-EV available to world markets in regular series production from a major manufacturer and aim to become a world leader in the reduction of CO2 emissions on a global scale. Mitsubishi's i-MiEV provides all the sophistication and modernity you would expect from a 21st century vehicle, but surpasses its old-technology rivals, offering zero CO2 emissions and making it the perfect urban car for the modern world.

Mitsubishi Motors in the UK's Director of Sales & Marketing, Toby Marshall said: "Mitsubishi Motors in the UK support the Mayor of London and Transport for London in the fight to reduce CO2 emissions. Electric vehicles such as the Mitsubishi i-MiEV are now an affordable, viable mode of transport and with infrastructure provided by schemes like Source London, implementing a strategic network of charging points, means that electric vehicles are at last becoming a reality. Such schemes will help eliminate 'range anxiety' by giving electric vehicle owners the confidence that they will never be far from a charging point in London."

After decades of experimentation, innovation and trials, the future of motoring is here and consumers can purchase a Mitsubishi i-MiEV from one of Mitsubishi's thirteen national EV Sales Centres in the UK, two of which are based in London.

Naturally, London represents an excellent opportunity for electric vehicles such as the Mitsubishi i-MiEV however customers and prospects nationwide are responding well to Mitsubishi's strong proposition. The i-MiEV is available in UK stock with a lead time of just 10 working days for a standard vehicle however Mitsubishi also offer an exciting interior and exterior bespoke accessory pack on i-MiEV which is now available.
For more information, visit mitsubishi-cars.co.uk.