Vauxhall's greenest Insignia dips below 120g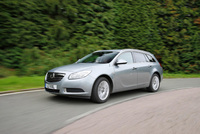 Vauxhall's European Car of the Year-winning Insignia range is now an even more compelling choice for private and business users with the addition of an ultra-low emissions ecoFLEX diesel model and a new-to-range 1.4 Turbo petrol engine.

With a 10 per cent improvement in CO2 (115g versus 129g) over the outgoing model, the new Insignia ecoFLEX diesel now falls in to the lowest 13 per cent Benefit-In-Kind tax band for the first time, and there is no VED on the hatchback and saloon, and no VED in year one on the Sports Tourer. The 1.4 Turbo petrol engine also offers low 15 per cent BIK for the 2011/12 tax year.

The 2.0 CDTi ecoFLEX's combined CO2 savings are achieved in part by the inclusion of Start/Stop technology, available for the first time on an Insignia. Underbody aerodynamic measures and low rolling resistance tyres also contribute to the Insignia's low running costs.

The Insignia's two revised Euro 5 compliant 2.0 CDTi diesel engines are available with 130PS or 160PS power outputs and unlike Vauxhall's low emission rivals, improved economy isn't at the expense of performance. Even fitted with the lower-powered 130PS engine, the Insignia ecoFLEX achieves a top speed of 129mph, with 0-60mph taking just 10.4 seconds. The 160PS variant is still quicker, posting a 137mph top speed and 0-60mph in 8.9 seconds. Torque is also maintained against the outgoing model with 300Nm for the 130PS engine and 350Nm on the 160PS unit.

For those who prefer petrol engines, the new-to-range 1.4 Turbo engine combines power, efficiency and refinement, emitting just 129g/km of CO2 and achieving a stingy 51.4mpg in the hatchback and saloon. Torque is increased to 200Nm from 175Nm on the outgoing model.

The new Insignia models also benefit from updated 18-inch five spoke alloy wheels and the inclusion of new satellite navigation units, Navi600 and Navi900. The Navi600 offers UK and Ireland mapping and main road networks across Europe, whilst the Navi900 features detailed European mapping.

Prices for the sub-120g diesel models start from £20,345 for the ES 2.0 CDTi (130PS) ecoFLEX Start/Stop Hatchback and go up to £29,385 for the top-of-the-range SRi Nav Vx Line Red Sports Tourer (160PS) ecoFLEX. The 1.4 Turbo is priced from £18,680 for the ES Hatchback up to £27,110 for the SRi Nav Vx Line Red Sports Tourer.
For more information, visit vauxhall.co.uk.