The Sarojin's 'Imagineer' reveals top guest experiences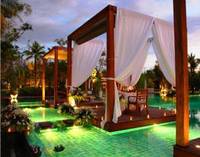 The Sarojin's elegant and inspired "Imagineer", who offers the ultimate concierge service for hotel guests, has recently revealed the five most popular tailor-made experiences for UK and Irish guests who have stayed at the multi-award winning resort and enjoyed its spectacular surroundings in picture perfect Khao Lak, Thailand.

Guests' top five experiences at The Sarojin are as follows:

1. The Lady Sarojin private charter – fall under the underwater spell
Marry the beauty of the Similan Islands or Phang Nga Bay with the elegance of the stunning Lady Sarojin private yacht. Dive into the vibrant and exotic marine life at the Similan Islands, which are consistently ranked amongst the top 10 dive sites in the world, or simply relax on the white sand beaches that blend into the radiant blue waters. Alternatively, sail away to the breathtaking Phang Nga Bay and allow The Sarojin's personal canoe guides to lead you past dramatic limestone islands and through secret sea caves where you'll discover hidden lagoons and unspoilt natural environments. These exceptional cruising experiences are exclusively available to The Sarojin guests.

2. Glimpse of Local Life – a million smiles await you!
Gain a unique "Glimpse of Local Life" as you venture to some of Khao Lak's rural areas. There are many experiences available but perhaps none quite as unforgettable as visiting the Baan Tharn Namchai and Hands Across the Water Orphanage, where you'll interact with over 60 local children, many of whom were victims of the Asian Tsunami and whose uplifting spirits will remain imprinted in your memory forever. The Sarojin's guides and drivers will be delighted to take you and they can stop at a local market if you'd like to collect any books, pens or food items. A firm favourite for UK and Irish residents, there is surely no better way to give back to the local community of Khao Lak than by supporting this very special orphanage.

3. A candlelit dining experience like no other…
Choose to set your dinner table at a unique variety of private dining settings, both in and out of the resort. For the ultimate in opulence, dine on your own private island and allow a personal waiter to spoil you with a selection of lobster, prawns, oysters, crab and more, while you and your loved one watch the sun set over the ocean; or be guided through some of Thailand's most inspiring and natural landscapes to the foot of a stunning candlelit jungle waterfall where your own private chef awaits to create dishes as you desire. Travel by luxury boat, traditional longtail boat, private car or by elephant are just some of the romantic modes of transport on offer and will further enhance your dream dining experience.

4. Take a mountain bike… and off you go!
Hop on the saddle and create some of your best memories simply by going off the tourist trail and discovering the local areas by mountain bike. Explore the five breathtaking national parks bordering The Sarojin, stop for walks on secret white sand beaches, take a two-wheeled trip to a beautiful coral cape headland, and continue your journey to an enchanting jungle waterfall for a dip in its crystal clear waters. Executive Chef Jui and his team love going off menu so choose what you want and allow them to pack a gourmet picnic for your adventure or, if you'd rather dine amongst the locals, why not swing past Mama's restaurant for a fried fish speciality in Khao Lak town? The Sarojin team can help plan your adventure and the limits are only your imagination.
5. Catch, Cook & Dine in style
Enjoy a gourmet experience like no other as you learn to catch like a local, cook like a masterchef and dine like a King or Queen at The Sarojin. Go native and travel aboard a traditional longtail boat as you explore the tranquil estuaries of the magnificent mangrove forest and learn to fish with a local Thai fisherman. Discover the secrets to Thai cuisine with a variety of local farm and industry tours before exploring the endless mangrove estuaries and canals of the incredible "Little Amazon" and shopping for regional ingredients at a local food market. Bring your gourmet adventure to a close with an authentic Thai cooking class with Chef on the Takuapa riverbank and round the day off with a spectacular safari-style lunch amidst the forest waterways.

The Sarojin's attentive Imagineer and his team of personal guides use their in-depth knowledge of the luxury 56 boutique residence and surrounding area to help tailor-make special days to suit each and every guest's wishes and imaginations. They take great pride in making "dreams come true", no matter how big or small, and can lovingly create a range of bespoke packages "Just For Two". Other fantastic options include private spa massages on an idyllic white sand beach, intimate gourmet picnics chauffeured by elephant, exclusive yoga lessons by the shimmering Andaman Sea, and much more.

Between 1st May and 31st October 2011 guests can enjoy a Special Bonus Nights Offer on all room types at The Sarojin, as well as complimentary all-day à la carte breakfast with sparkling wine for two people. During this period, guests who stay one night will receive an additional night free; a stay of two nights will lead to an extra two nights free; a stay of three nights will result in a further three nights free, and so forth. Prices start from THB 13,500 (approximately GBP 270) per room per night and are based on two people sharing, inclusive of taxes.

For further information on The Sarojin, please visit: sarojin.com