Cheshire spa director's sky dive raises £1,500 for charity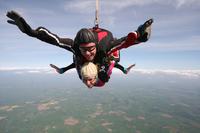 On 25 April, local business woman Amy Nelson – spa director of the Nelson family-owned Grosvenor Pulford Hotel & Spa in Cheshire – completed a daring sky dive at the Skydive Tilstok facility in Whitchurch, Shropshire, and raised £1,500 for cervical cancer charity Jo's Cervical Cancer Trust.
The charity sky dive was due to take place on 29 April but was brought forward due to concerns about the weather forecast for the 29th.
Amy was inspired to do the sponsored sky dive after overcoming treatment and an operation to remove severe cancer in situ (cervical abnormalities) that would have progressed to cervical cancer had it not been identified in good time.
Now Amy wants to raise awareness of cervical cancer and its symptoms and encourage women to keep appointments for cervical screening (smear tests). Reportedly, every year in the UK, over 2,800 women will be diagnosed with cervical cancer and nearly 1,000 women will die from the disease.
Amy says: "Awareness levels of cervical cancer are quite low. It's like the scary subject that no one wants to talk about, but it is real and after breast cancer it's the second most common cancer in women aged 35 and under. That's quite alarming. I can't stress how important it is to have regular smear tests. No woman likes going for a smear test, but it really could save your life.
"When I was diagnosed and had to undergo treatment it certainly was a worrying time, but thanks to the love and support of family and friends I got through it. Not everyone is fortunate enough to have a strong support network and that's where the work of charities like Jo's Cervical Cancer Trust is invaluable, but charities need donations in order to carry out their good work. People said I was brave doing a sky dive, but a sky dive's nothing compared with what some women go through with cervical cancer.
"They say 'every little helps' and I know the money I've raised for Jo's Cervical Cancer will be put to great use. I'd like to thank everyone who sponsored me. I couldn't have done it without you."
For more information about the hotel, visit: grosvenorpulfordhotel.co.uk