Boy racer!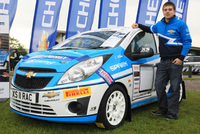 Teenage rallying sensation Cameron Davies is about to make motorsport history by becoming the youngest ever works-supported rally driver, campaigning a Chevrolet-backed Spark in the Formula 1000 Junior rally championship.

The 16-year old, from Llandovery, Carmarthenshire, is the series' reigning champion, and is widely tipped to become Britain's next rallying great.

Cameron's car, and Chevrolet's involvement, were revealed at the British Touring Car Championship round at Oulton Park, Cheshire, the closest BTCC circuit to Cameron's home. The car was rally-prepared and developed by rallying specialists XS Racing.

"I'm absolutely bowled over by the fact I've got manufacturer support," said Cameron. "It hasn't really sunk in yet. I just can't wait to drive it properly."

But Cameron will have to wait a short while before he can compete in anger, not because of the car, but because he has to finish his GCSEs! The year 11 student at Ysgol Pantycelyn, Llandovery, had a Maths exam immediately after the car's unveil…

The Spark's first outing will be on June 24 at Caerwent, near Newport, once Cameron's exams are out of the way. After his GCSEs, Cameron wants to do an Advanced Apprenticeship in Sporting Excellence, focusing on developing his rally career.

"I'm thrilled to be fighting out the championship in the Spark," he added. "It makes a perfect Formula 1000 car, as it's relatively powerful for its size and has the right kind of handling for rallying. I'd love to take a championship title in it as this is my final year in juniors before moving up to something bigger."

Cameron will be partnered by 22-year old co-driver Chris Williams from Barrow-in-Furness, Cumbria, in the series, which is aimed drivers aged between 14 and 16. The regulations stipulate that the car must be mechanically standard and of 1.0-litre displacement, with only minor modifications allowed to the brakes, suspension and exhaust system.

In total, drivers can compete in nine out of 13 events across England and Wales, with the best seven finishes counting towards the championship.

Chevrolet UK Managing Director Mark Terry commented: "I'm delighted that Cameron will be driving the Formula 1000 Junior Spark. Chevrolet has a proud motorsport heritage, and is also a brand that consistently promotes and encourages talented youth, so it's a natural fit. We'll be following his progress closely, and wish him every success."

Fans can track Cameron's success via the Chevrolet UK Facebook site, while more information about the series can be found at formula1000.co.uk.