Victoria Wood to launch Lake District treasure trail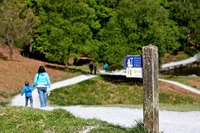 The World of Beatrix Potter Attraction, based in Bowness-on-Windermere, is celebrating its 20th birthday throughout 2011, and is delighted to have teamed up with the National Trust in the Lake District to host a very special treasure trail, which starts on 28th July and runs for a month, until the end of August.

Victoria Wood will launch the Potter Places Treasure Trail at 10am on 28th July, at the World of Beatrix Potter Attraction, based in Bowness, in the Lake District, which she opened to the public in 1991. Victoria will unveil the special event map and the event web page hosted on the GoLakes website, which will reveal 35 Potter associated locations dotted around Cumbria.

For those who take part there will be over £5,000 worth of fantastic prizes up for grabs; the top prize is worth £2,000 a limited edition presentation set of Gold Sovereign coins minted in 1991, the year the Attraction opened as well as a basket of Peter Rabbit collectibles. There will also be five runners up prizes worth over £500 each, which includes a limited edition sculpture, created by world renowned Sheffield based sculptor Anthony Bennett as well as a basket of Peter Rabbit collectibles.

The 35 locations chosen all have a link with Beatrix - one of Lakeland's most famous residents in some shape or form, either property she owned, locations that interpret her life and work, shows she judged at or properties relatives owned. Each of the locations chosen has a points value associated with it, the easier to get to locations are worth five, the moderately difficult are worth 10 and the difficult are worth 20 points. By establishing a minimum point's requirement (50 points) to enter the event its means you can collect as few or as many points as you like and where possible; you can join in by foot, by bike, by boat, or bus to minimise impact on the local area.

At each location there will be a way-marker indicating the point's value of that location, the identification number for that location and a control punch, which the participant will need to use to clip their entry form with, alongside the relevant control number. All participants have to do is collect a minimum of 50 points and then either post their completed form to the World of Beatrix Potter Attraction marked for the attention of the Events Team or drop it into the Attraction foyer and pop it in the specially designated post-box.

A special map and website – golakes.co.uk/beatrixpotter/potter-places-trail.aspx will be unveiled at 10am on 28th July! Treasure seekers will find the 35 markers placed all over Cumbria, and also download an information sheet and registration form, which they will need to return to the World of Beatrix Potter Attraction to be entered into the prize draw. Printed copies of the form and participation information will also be available at the attraction in Bowness and at National Trust places, Beatrix Potter Gallery, in Hawkshead, or Tarn Hows info point.

Andy Poole, Chief Executive of the World of Beatrix Potter Attraction, said: "The Potter Places Treasure Trail is set to be an exciting event and marks a significant milestone, the Attraction's 20th birthday. The Attraction has constantly developed over the last 20 years, offering something new for people to see each year, with even more exciting developments in the coming years for future generations of visitors to enjoy.''

For more information, visit hop-skip-jump.com.