The MINI Coupé - A recipe for unbridled driving fun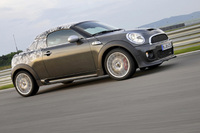 MINI is expanding its product family with the launch of a model geared squarely to maximising driving fun. The MINI Coupé indulges the keen driver with a level of agility unmatched in the small car segment, along with a unique body and interior concept and the brand's customary commitment to premium levels of quality and equipment. The first two-seater in its line-up sees MINI not only breathe new life into its successful racing history but also provide a shot in the arm for the super-compact sports car class. The selection of engines, chassis set-up, weight distribution and aerodynamic properties of the MINI Coupé are all focused on delivering optimum performance. As a result, the new car radiates the brand's hallmark go-kart feeling with a whole new depth of intensity and achieves the best performance statistics ever recorded by a volume-produced MINI.

The latest generation of four-cylinder petrol and diesel engines.
The MINI Coupé can be ordered with the most powerful petrol and diesel engines in the brand's arsenal. Outputs range from the 90 kW/122 hp of the MINI Cooper Coupé, to the MINI Cooper SD Coupé (105 kW/143 hp) and MINI Cooper S Coupé (135 kW/184 hp), all the way up to the MINI John Cooper Works Coupé, a thoroughbred athlete producing 155 kW/211 hp.

The ultimate in go-kart feeling.
A level of chassis quality unmatched in the small car segment gives the new MINI model the handling flair you would expect from the brand. The precise Electric Power Steering, the standard-fitted DSC stability control system, powerful brakes and measures designed specifically to optimise torsional rigidity ensure the MINI Coupé driver can enjoy the ultimate in go-kart feeling.

Distinctive roof form, optimised aerodynamics, impressive storage space.
Its flat silhouette and innovative "helmet roof" lend the MINI Coupé a sporty and individual allure. In addition to the integral roof spoiler, an active rear spoiler optimises airflow at higher speeds. Helped by its extremely high-opening tailgate and large luggage area with through-loading facility, the MINI Coupé displays outstanding versatility in day-to-day driving, when transporting leisure items or sports gear, and on trips out with a lucky partner.