New packages for Gold Coast backpackers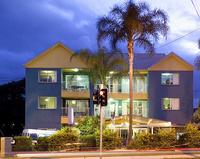 In an area where backpackers are a dime a dozen there's always the danger that budget accommodation just won't make an effort.

Not so for this colourful Gold Coast hostel where cleanliness is as important as having a good time - and that's considered very important.

This boutique hostel offers a range of budget conscious packages combining accommodation with top rated activities on the Gold Coast.

To check out these neat little packages head to aquariusbackpackers.com.au - where you will find inexpensive, fun filled short breaks that won't hurt your bank account!