'Cars 2' stars make first UK appearance at 2011 Motorexpo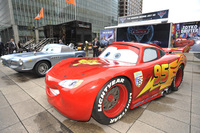 Two of the world's most exciting animated automotive characters chose this week's Motorexpo at Canary Wharf to kick off the UK leg of their worldwide promotional tour.

Disney.Pixar's 'Cars 2' stars, Lightning McQueen and Finn McMissile, will be on show at the free-to-visit motoring event between June 6 and 12. Fittingly, it's the first time that Finn, a British spy car voiced by celebrated actor Michael Caine, has appeared 'live' in the UK.

The full-size film-star cars are in the capital to promote their new film, 'Cars 2', which hits UK cinemas in stunning 3D on the 22 July. In the movie, Lightning and Finn (voiced by actors Owen Wilson and Michael Caine respectively) join forces in order to achieve their goals – Lightning to win the World Grand Prix race series; Finn to complete his top-secret spy mission.

Commenting on the special appearances, Motorexpo's CEO, Graeme Carver, said: "We're delighted that Lightning McQueen and Finn McMissile chose Motorexpo to start their British 'Cars 2' promotional tour. Our show is the most interactive motoring event in the country and it's only appropriate that we offer our younger visitors something to keep them entertained too."

The 'Cars 2' characters are among a plethora of family-oriented attractions at Motorexpo over the weekend of Saturday 11 and Sunday 12 June. Also present will be Titan the Robot, a futuristically styled computer-controlled giant robot that will entertain young and old alike. There will also be live music to keep the crowds enthralled.

Not only is Motorexpo Britain's biggest free motoring event, it is also the most interactive, taking advantage of the urban environment in and around the Canary Wharf estate. Visitors are encouraged to touch and explore the diverse range of vehicles on display throughout the indoor and outdoor public spaces, and they also have the chance to get behind the wheel of many exciting new vehicles.

Motorexpo is completely free for all members of the public to attend. There are no tickets and no queues, with easy access to the event via one of the wide variety of transport options available. Visitors can take the bus, London Underground or Docklands Light Railway. Alternatively, there's also space for 2,900 cars within Canary Wharf's four underground public car parks.

Motorexpo is open daily from 10am to 6pm (Monday 6 to Saturday 11 June) and 11am to 5pm on Sunday 12 June. Entry is free. Details on how to get there and information on the show are available at motorexpo.com.