Trek the land of the Mustang with Walks Worldwide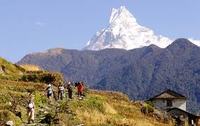 Walks Worldwide has a brand new 19-day small group trip to Nepal entitled Forbidden Land of the Mustang.

For those desperate to escape mainstream tourism destinations this region really is in the middle of nowhere and it requires two domestic flights (each way) from Kathmandu to commence the trek (which is 12 days long).
Mustang is very isolated and geographically a part of Tibet, located north of the Annapurna range.
Known previously as the Kingdom of Lo, Mustang prospered and dominated the Kali Gandaki River trade between India and Tibet in its heyday. Now incorporated into Nepal, Mustang still remained off limits to foreigners until the early 90's. Mustang is perhaps Tibet as one would hope it to be.
This is a land where mountains over 8000m high cast shadows over the world's deepest canyon. A weird and wonderful desert land where nomadic shepherds herd their flocks across desolate mountain slopes, coloured brown, blue, yellow and red by natural earth pigments and sculpted by the forces of wind.
A land where 150 million year old fossils of creatures that once lived in the Tethys Ocean can be found. The scene is complete by the addition of picturesque white painted villages, Tibetan monasteries, prayer walls, chortens and our ultimate destination, the fabled, fairy-tale walled city of Lo Manthang, the capital of Mustang.
The trek is graded as moderate/demanding, hiking between 5-8 hours per day above 3000m.
It departs on 30 July and costs from £1195 pp (2 sharing). This includes 16 nights' accommodation (5 nights' hotels, 11 nights' tea houses on trek), most meals, permits, luggage transfers (porters and mules) and a guide.
International flights bookable on request, bookable through Walks Worldwide.

For more information, visit: walksworldwide.com