Introducing the new credit card from smart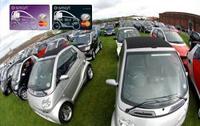 smart, the iconic automotive manufacturer, is launching a new credit card in support of the brand, in association with DaimlerChrysler Financial Services and HBoS Card Services.
The smart credit card made its debut at the London to Brighton smart run on Sunday 24 September 2006: the largest annual gathering of smart owners and enthusiasts in the UK.
Being true to the brand's environmental ethos, smart has agreed a partnership with the Woodland Trust, whereby new cardholders can off-set their carbon emissions for one year, simply by using their credit card. Every cardholder who activates their card generates the planting of five new trees, offsetting the 1091 kilograms of CO2 generated by a smart fortwo coupé pure during one year's driving*.
Sam Bridger, Head of Marketing for smart, said: "The smart credit card complements our customers' commitment to the environment and I am delighted that the Woodland Trust has agreed to be our partner on this venture. We hope to plant over 5000 trees before the end of 2007 as a result of launching this unique initiative."
With CO2 emissions of 113g/km, the smart fortwo is one of the lowest CO2 emitting cars on British roads.
Maintaining the "green" theme, the smart credit card is made from plastic PETG, which contains virtually no chlorine or other highly toxic chemicals that are contained in standard PVC credit cards.
The new smart card will offer 0% pa on both balance transfers and purchases fixed for the first six months, free online Fraud Protection and an APR of 14.9% on the Platinum Card.
Karl Mitchell, Director of Development at the Woodland Trust, said: "While the answer to climate change is cutting our carbon emissions, we recognise that most people can't get to zero, so planting trees is a helpful way to offset those residual emissions. The new native woodland that smart credit card holders help to create will provide many benefits for both people and wildlife."
Alex Watkins, General Manager Marketing and Product Development at DCFS, said: "We believe the smart credit card represents a unique place in the market and are pleased to be able to offer customers such a competitively priced product which is friendly to the environment too."
Following the official launch at the London to Brighton run, the smart credit card has now been launched to over 60 smart retailers nationwide. Applications can also be made on www.smart.com/uk or by calling the freephone number 0808 000 8080.
*based on annual mileage of 6000 miles.