Government help for Armed Forces home buyers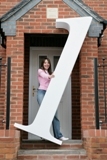 Persimmon Homes is urging members of the Armed Forces to register their interest in the Government's FirstBuy initiative following the announcement that military personnel have been given top priority for housing help and will be amongst the first to benefit from the Government scheme.
With a few weeks to go until the FirstBuy allocations are made public, first time buyers wanting to take advantage of the scheme are being reminded that they need to register their interest now to avoid disappointment.
More than 2,000 prospective buyers have already registered their interest in the scheme at persimmonhomes.com/firstbuy - prior to the announcement of the allocation of applicable FirstBuy plots later this month.
Steve Roche, group communications director for Persimmon Homes, says: "It's important that we pull out all the stops to give our brave Armed Forces a helping hand onto the property ladder and it's only right that they are at the top of the list to receive funding.
"However, in addition to Military personnel, FirstBuy has been developed to assist a whole host of groups including existing social tenants and other first time buyers. However, it's crucial that any aspiring home owner who feels that they could benefit from the scheme registers their interest immediately, via our website, to avoid missing out."

FirstBuy, which was announced in the Budget on 23rd March, is aimed at helping first time buyers onto the property ladder with a smaller mortgage deposit. It is similar to the previous Government's HomeBuy Direct Scheme, of which Persimmon Homes had the largest allocation (20 per cent) of all applicable plots in the country, assisting over 2,000 purchasers to buy their first home.
For buyers that do not meet the requirements of FirstBuy, which is expected to help 10,000 families get onto the property ladder, Persimmon Homes also offers its own Shared Equity Scheme and homes that can be bought through the Kickstart II initiative.
More information on FirstBuy can be found at: homesandcommunities.co.uk/firstbuy