Barratt signs up to Natwest Island Games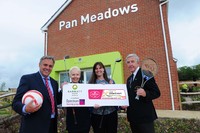 The NatWest Island Games has secured sponsorship for the 1,000 volunteers who will help ensure the success of the event later this month.
Barratt, David Wilson Homes and Spectrum Housing Group have pledged their support for this popular international multi sport event due to be held on the Isle of Wight.
This partnership is actively providing new homes on the Isle of Wight, including Barratt and Spectrum at Pan Meadows, Hawthorne Meadows in Whippingham and David Wilson Homes at the newly opened Victoria Walk in Cowes.
They will be sponsoring around 1,000 vital volunteers who will be involved across a wide variety of roles all helping to make the event a success, including administrators, car park attendants, marshals, First Aiders and many more.
"As the largest new home builder on the island Barratt is committed to supporting the local community and the NatWest Island Games has given us the perfect opportunity," said Barratt managing director, Ian Wallace. "We are thrilled to be a part of this event and to have our name on the valuable army of volunteers at sporting events across the island."
Wayne Morris, chief executive from Spectrum Housing Group said the company was delighted to be involved in such an exciting event for the island. . "The scale of the event is incredible and we are excited to be involved,'' he said.
Around 3,000 athletes and officials from 25 member islands around the world will be attending the NatWest Island Games which take place on 25 June - 1 July.
The athletes are due to compete in several hundred events across 14 sports during the course of six days with events ranging from archery to basketball, cycling, tennis and volleyball.
The chairman of the organising committee for the 2011 NatWest Island Games, David Ball, welcomed the sponsorship: "We are delighted that developers, Barratt and David Wilson Homes, together with Spectrum, are involved in the Games through their very welcome sponsorship of our volunteers,'' he said.