Mitsubishi supports calls to suspend VAT on electric vehicles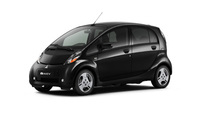 Mitsubishi Motors in the UK has announced its full support for motoring journalist Quentin Willson and the RAC, who are calling for the government to suspend VAT on all pure-electric vehicles (EVs). Removing VAT on pure-EVs would bridge the gap between the cost of an EV and that of a conventional vehicle - helping to stimulate consumer demand, encouraging investment and assisting further development of the green automotive industry.

Willson says: "While the Government gives £5,000 grants for EVs, they're still too expensive for mass market. Clawing back thousands of pounds of that grant in VAT isn't helping. We need to create demand among consumers and investor confidence. The UK must lead the world in green car technology before the Chinese beat us to it."

The Mitsubishi i-MiEV, first launched in Japan in July 2009, was the first pure-EV in regular series production from a major manufacturer available to world markets and it aims to become a world leader in the reduction of CO2 emissions on a global scale. The i-MiEV provides all the sophistication and modernity you would expect from a 21st century vehicle and surpasses its old-technology rivals, offering zero CO2 emissions and making it today's perfect urban car.

Lance Bradley, Managing Director of Mitsubishi Motors in the UK, stated today: "We have applauded the government on the introduction of the £5,000 plug-in car grant (P-ICG), but we also believe that more can be done. Making pure-EVs VAT exempt, even if only for a limited time to help establish an early market, would give this motoring revolution the extra boost that it needs."

Bradley has also suggested some additional government-led incentives, such as free use of bus lanes and free parking for pure-EVs in all London boroughs and other large UK conurbations.

Consumers can test-drive the Mitsubishi i-MiEV until 12th June at the 'Drive the Future' green event at Motorexpo in London's Canary Wharf.