Meet Captain Jack Sparrow in Wragby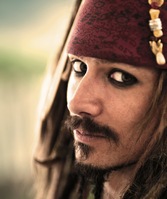 From the High Seas of the Caribbean to the shores of Wragby in Lincolnshire – Linden Homes will be giving a hero's welcome to its very own Captain Jack Sparrow!
Helping to support Armed Forces Day on Saturday June 25, Linden Homes will be hosting its own day of awareness, fund-raising, competitions and of a visit by the silver screen's most prolific pirate!
Armed Forces Day is a national, annual celebration to recognise the efforts of servicemen and women – from those currently serving in the forces to veterans – and their families.
To mark the event, Linden Homes will be bringing a hero if its own to the Carpenter's Lodge development in Wragby in the guise of 'Captain Jack Sparrow' – professional lookalike Simon Newton.
As well as having the opportunity to have your photo taken with Captain Jack, young visitors can don their best pirate outfit – and anyone attending the development during the day will be invited to enter a free prize draw to win a Wii console and game.
During the weekend, Linden Homes will also be raising money for its own chosen charity - Help For Heroes – where £250 from every reservation from the weekend of June 25/26 will be donated to the cause.
Linden Homes sales and marketing director Steve Garton said: "As a company, we have a long and successful relationship with the armed forces both here and overseas.
"We wanted to show our support for those men and women who do, and who have, served our country – and thought we'd bring along a hero of our own!"
'Captain Jack Sparrow' will be at the development from 11am until 2pm.
The Wragby development is open from Thursday to Monday from 10.30am until 5pm.
For more information about Armed Forces Day visit: armedforcesday.org.uk