Electric smart to go live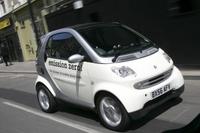 Following successful trials in the UK, the iconic, zero-emission, smart fortwo electric drive is ready for small series production.
Reaction from customers taking part in the UK trial, including the Metropolitan Police, universities, local councils, architects and energy companies, has proved so encouraging that smart's parent company, Daimler AG, can confirm that the smart electric drive will go into small series production, with cars coming to the UK in early 2010.
The second generation smart electric drive will also be taking part in projects in Rome, Milan and Paris. Several cities in the US are also due to start trials of the fully electric car and the invaluable feedback will be incorporated into the development of future production models.
Featuring a lithium-ion battery the second generation smart electric drive's power source will have a longer range, boast a shorter charging time and will give improved performance.
Boris Johnson, the Mayor of London, said: "It is absolutely fantastic to see manufacturers like smart leading the way to make the electric vehicle an easy choice for Londoners. The move to electric vehicles, which emit zero pollution on London's streets, will have a massive impact on cutting carbon emissions to curb climate change whilst improving air quality and noise levels for our citizens."
Kulveer Ranger, Mayor's director of transport, said: "The Mayor and I are working with manufacturers through the London Electric Vehicle Partnership and urge the entire car industry to invest in this technology. Not only can we create green collar jobs but also smooth the way for less polluting transport choices which will improve our air quality, reduce traffic noise and contribute significantly to the Mayor's ambitious carbon emissions reduction target."
Dermot Kelly, Managing Director Mercedes-Benz UK, said: "smart have been leading the way in pioneering environmentally friendly, sustainable concepts for future mobility and we're delighted that the UK trial is proving to be so successful. The smart electric drive is exempt from vehicle excise duty and the London congestion charge and this, underlined with incredibly low operating costs, means that companies taking part in the trial are finding it makes perfect fiscal sense."