RAM provides tracking support to Pedal for Parkinson's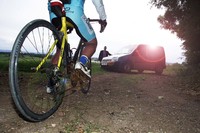 This year's Pedal for Parkinson's charity cycle ride to raise funds for research into a cure for the progressive neurological condition, will not only be the most challenging undertaken by the charity, but will be its most high profile to date.
Thanks to the generous donation of specialist vehicle tracking equipment by Leeds-based Remote Asset Management (RAM), thousands of supporters will be able to monitor David Greaves and his intrepid cycling companions on the entire 2,000 mile cycle ride.
Commencing on 15th June the 'double end to end' route will take the team – four of which have Parkinson's – across the length and breadth of the UK.
RAM's vehicle tracking systems, which will be fitted to the race team's support vehicles, will provide live gps positioning data that can be viewed on the Pedal for Parkinson's website - pedalforparkinsons.co.uk
Commenting on the donation, Pedal for Parkinson's founder David Greaves said: "It's brilliant that our very loyal supporters will be able to see exactly how we are progressing; we've not been able to do this before. A lot of people like to come and cheer us on along the route and now they'll be certain of knowing where to find us. Their encouragement is very much appreciated and will be even more important to us this year as we are taking on a much bigger challenge."
RAM managing director Chris McClellan added: "I was so impressed by the sheer determination of David and his team, some of which have considerable difficulty walking, that providing one of our tracking devices seemed the least I could do.
"We are more accustomed to assisting with strategic fleet management issues but this is a very worthwhile alternative use for our vehicle tracking technology."
Award-winning industry leader RAM has over 3,000 clients and has fitted more than 20,000 vehicle tracking devices since it was founded in 2004.
David Greaves, who was diagnosed with Parkinson's in 2004, created the first Pedal for Parkinson's challenge in 2007. To date, the challenge team has raised £45,000 pedalling from Lands End to John O'Groats and across the Pennines. This year he is hopeful that their super challenge with its hi-tech tracking will raise even more money towards developing a cure to this devastating disease.