Chevrolet Orlando named 'Best Value Towcar'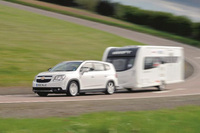 The Chevrolet Orlando has proven it can pull more than just admiring glances, after winning the accolade of Britain's Best Value towing car in the annual Towcar Awards.

Voted for by a panel of testers from Practical Caravan, What Car? and the Camping and Caravanning Club, the striking seven-seat MPV was praised for its towing stability, pulling power and all-round practicality.

The awards also evaluate the car on its owner appeal when not towing, factoring in such details as kerbside appeal, quality, comfort and running costs.

"You get a lot of car for your money with the Chevrolet Orlando," said Practical Caravan editor Nigel Donnelly. "It's very stable, has plenty of space for a family's luggage and is sturdily built. It's an impressively roomy and capable towcar."

Accepting the award, Chevrolet's National Sales Manager, Daniel Gregorious, said: "The Orlando already encapsulates everything the family motorist would want from a car, so to receive recognition for its towing ability, and from such prestigious publications and organisations, is a real bonus. It's yet another area in which the Orlando excels, not to mention its tremendous value for money."

Launched in February, the Orlando has already established itself as one of the best MPVs in its class, with prices starting from as little as £16,410 on-the-road – tremendous value for a full-size, well-equipped seven-seater.

It has a maximum towing weight of 1,500kg, with an 85 per cent match between kerbweight and towing weight of 1,471kg, meaning it's capable of towing most medium-to-large touring caravans.