Vauxhall vans steal a march on competition with security award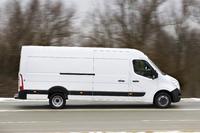 Vauxhall's multi award-winning commercial vehicle range has been honoured at the 2011 British Insurance Vehicle Security Awards as the best overall van manufacturer.

Every variant in Vauxhall's five model van range, including the British-built Astravan and Vivaro, plus Corsavan, Combo and the all-new Movano, fully satisfied the manufacturer awards selection criteria.

The British Insurance Vehicle Security Awards were established in 2004 to recognise those manufacturers who have produced the most secure cars and commercial vehicles, and to raise consumer awareness of the top-performing vehicles in the industry.

The influential awards are based on the New Vehicle Security Ratings (NVSR) scheme. The categories and judging process have been developed jointly by the Automobile Association, the Department for Transport, the Home Office and Thatcham, and are supported by UK insurers and What Car? magazine.

The award is given to the car and van maker that in the 12 months to April had the most model ranges, and so the widest market coverage, where every variant satisfied the awards selection criteria.

The cars and vans selected for the awards are those submitted for insurance group rating purposes, subjected to New Vehicle Security Assessment testing and rated by NVSR.

"It's fantastic news that Vauxhall has been honoured for the security of its commercial vehicle range," said Steve Bryant, Vauxhall's Commercial Vehicle Brand Manager. "This prestigious award shows Vauxhall has some of the most secure commercial vehicles on the market, giving peace of mind to both our customers and insurers alike."

"Car and van manufacturers take vehicle security very seriously and strive to stay one step ahead of criminals," said Paul Everitt, SMMT Chief Executive. "The sustained reduction in the number of vehicle thefts demonstrates the progress that has been made and today's awards reflect the high priority security continues to have for all vehicle manufacturers."

Vauxhall vans benefit from a raft of security features that prevent theft of and theft from the vehicle including engine immobilisers, remote control selective locking and deadlocks, the latest alarm systems and full steel bulkheads. Van security accessories are also available from Vauxhall retailers and include rear window protection grilles, steering wheel security bars and one-way visible security film.

All Vauxhall commercial vehicles are E-rated meaning they exceed the Association of British Insurers' security requirements which consequently drives insurance groups and premiums down.

Over 77,000 vans were built at Vauxhall's plants in Luton, Bedfordshire and Ellesmere Port, Cheshire last year, making Vauxhall the UK's largest manufacturer of commercial vehicles.