Best beaches for gappers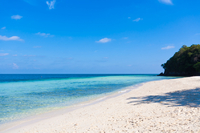 Whether it's a couple of weeks, a month or a full year, taking a gap break provides the opportunity to go beyond the shores of the Costa Del Sol and visit some of the world's most remarkable destinations.
Beaches are high on the list of sought after sights to see, and since a certain film starring Leonardo Dicaprio was released in 2000, many a gap year traveller has searched far and wide to find the perfect beach.
But with time in short supply as gappers trade in the gap year for gap months and even gap weeks, how can they find the best beaches without spending months on end sifting sand out of suitcases as they hop from one beach to the next? With the help of over 500 gap travellers, Real Gap Experience have found the top five destinations, as voted by the gappers themselves, that hold the key to the best beaches to visit on a gap break.
1st Place
Thailand – Koh Samet
Koh Samet, a little island just a few hours from Bangkok, has been voted by gappers as the best beach to visit on their travels. Its beautiful beaches, especially in the north-east of the island, have been described as having the whitest and squeakiest sand in the kingdom. A favourite getaway for Thai families the beaches fill up at the weekend, but during the week Koh Samet transforms back to the idyllic, secluded haven that first enticed visitors to its shores.
Thailand Island Hopping with Real Gap Experience
Find the gapper's choice of best beach by island hopping around some of Thailand's lesser developed islands. Start at Ko Kut, an island only a short distance from the Thai-Cambodian border, with some of the best diving and snorkeling this side of the equator. Then on to Ko Chang which boasts magnificent rainforests, shimmering waterfalls and an indigenous fishing community. Finally arrive on Koh Samet which, according to the gappers' poll, has the best beach out there.
Prices start from £649 land only for 15 days. Includes accommodation, airport transfer, snorkeling trip, Koh Chang waterfall trek, Koh Samet National Park fees and 24 hour support.
2nd Place
Fiji – Coral Coast
The Coral Coast which wraps round the south-western corner of Vitu Levu, is an 80km stretch of coastline, dotted with beaches, bays, rocky outcrops, mangrove forests, lush vegetation and Fijian villages. As the dusty white sand meets the shore, it extends out in to one of the largest fringing coral reefs in the world, offering a whole other world of water for travellers to explore.
Fiji Scuba Diving with Real Gap Experience
See the best of the beach from the bottom of the ocean on Real Gap Experience's Fiji Scuba Diving trip. The hundreds of species of fish that cluster around the colourful coral formations which encircle Fiji, will keep any diver mesmerised for hours on end. This trip has a scuba course to suit anyone from the complete beginner to the more advanced. And after a day of diving, the only thing left to do is enjoy the 80km stretch of coastline that has been voted the second best beach for gappers.
Prices start from £399 land only for 1 to 8 weeks. Includes accommodation, all breakfasts, professional instruction, airport transfer, PADI qualification, equipment, massage, additional activities at the resort and 24 hour support.
3rd Place
Australia – Bondi Beach
It might be one of the more touristy beach hotspots, but it's still a firm favourite amongst the gappers. No matter how busy Bondi gets, in the eyes of visitors and locals alike, it's sure to remain one of the world's greatest beaches. With consistent rolling waves it's the perfect place to learn or perfect surfing skills whilst surrounded by the pros.
Real Gap Experience Australia Mini Gap
Start a mini gap in Sydney with a visit to the third best beach for gappers. With time in short supply and gappers opting for a slightly shorter stint away during their gap year, a mini gap is the ideal alternative to fit as much fun in to just three months. There's tons of things including such as riding the waves at an Ozzie surf camp, exploring the ocean on a 7 day PADI diving course, two weeks volunteering at a conservation project and the ultimate Oz experience bus pass from Byron Bay to Cairns, not forgetting a two day stopover in Bangkok.
Prices start from £3,999 for three months including all of the above, flights (two day stopover in Bangkok on return journey) accommodation, some meals, airport pick-up, orientations and 24 hour support from Real Gap representatives.
Joint 4th and 5th place
Panama – Beaches of Bocas del Toro
Split vertically by a mountainous range and a network of over 500 rivers and canals, Panama is one of South America's smaller countries. Although the beaches stretching along Panama's mainland coastline are not particularly striking, just a paddle across the Caribbean Sea to one Panama's many islands unveils powdery white sands lapped by warm tropical waters and shaded by billowing palm trees.
Real Gap Experience Costa Rica turtle and watersport adventure
This trip is completely centred around the beautiful beach of Bocas del Toro, which has been voted by gappers as the joint fourth best beach to visit on a gap year. This trip provides the opportunity to experience all that the sea has to offer, from surfing to sea kayaking as well as snorkelling and providing a very worthwhile helping hand at a turtle conservation project.
Prices start from £899 land only for 15 days. Includes a variety of accommodation incl. beach side bungalows , some meals, surf lessons, airport pick-up and in-country support.
Mozambique – Tofo Bay
On the southern coast of Mozambique lies Tofo Bay, a white sand beach with crashing waves that stretches 8km long. Like Bondi, but a little less crowded, Tofo is a surfer's paradise. And beyond the shoreline lies an enchanting sealife, attracting divers from around the globe. Looking out from Tofo's grassy sand dunes it's not uncommon to witness dolphins dancing in the surf or the fin of a whale shark breaking through the glistening water.
Real Gap Experience Mozambique Whale Shark Conservation
An African seaside sensation; this project encompasses the best of the beach and it's no wonder that gappers have placed it in their top 5. Every day will be spent either on the beach or in the sea, helping to conduct vital research on the Whale Sharks that inhabit the Mozambique Channel and the Indian Ocean which lie just off Tofo beach. Data on these magnificent creatures, which feed only on plankton, have to be collected in order to study their behaviour and understand how to protect their habitat.
Prices start from £1399 land only for two weeks. Includes accommodation, all meals, airport transfers, PADI open water course and certificate, and 24 hour support.
For more information visit: realgap.co.uk