Falstaff Experience named 'Most Haunted Building in England'!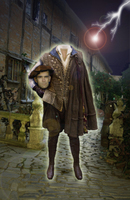 'The Horrible Histories' franchise created by author Terry Deary continues to go from strength to strength. The books brought history alive as never before and since then there have been popular cartoons and now an award winning sketch show.
The sketch show has proved so popular that it is now being aired by the BBC1 on Sunday evenings. When 'Horrible Histories' author Terry Deary visited Stratford to write his town guide he made a startling discovery.
Stratford upon Avon has a reputation for being one of the most haunted towns in England but Terry Deary further discovered England's most haunted building; The Shrieve's House home to the Falstaff Experience Tudor World. The house left such a lasting impression on Terry Deary that he dedicated his guide to Stratford to the building and spirits that dwell within. Deary learned all about the spooks of Sheep Street including; axe-murderer John Davies, playful pickpocket Little Lucy and the witch Jane Ward. On page 49 of the guide Deary says that the Shrieve's house is the most haunted in England. The museum also featured on 'Most Haunted Live' in 2004 and famous Medium Derek Acorah was possessed by John Davies live on national television. Today visitors can enjoy the atmosphere of the building during the day when visiting the Tudor World exhibits.
Those of a brave disposition may wish to partake of one of the museums famous Lantern Lit tours that run every day of the year. The museum also hosts overnight ghost hunts on most weekends.
For more information visit: falstaffexperience.co.uk
The Falstaff Experience Tudor world is located on Sheep Street in the heart of Stratford upon Avon.