Jet2.com staff reveal their top travel tips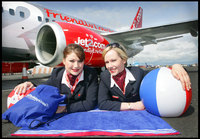 If you're looking for the next up-and-coming destination, the best beach to top up your tan or the hottest high street for hitting the shops, who better to ask than someone who travels the world for a living?

That's why the north's leading leisure airline, Jet2.com, polled its 940 cabin crew members and pilots to ask them to reveal their top travel tips. Jet2.com's friendly crew members have built up a wealth of knowledge on the best places to visit and the airline has tapped into this to share with customers its top travel hotspots.

Ian Doubtfire, managing director of Jet2.com, said: "It's always interesting to hear where those in the know go! We thought it would be good to find out some insider information from our aircraft-based staff on where they love to visit when they have some time off. So if you have ever wondered where cabin crew go on holiday, their secrets are finally revealed!"

The best destination for beautiful beaches

Providing a great service to customers and flying aircraft is no mean feat, so like all of us, air crew need a well earned rest somewhere warm and sunny. When it comes to perfect sandy beaches and gorgeous blue sea, Spanish resorts bagged the top three spots, with Majorca receiving the most nominations from Jet2.com staff.

1. Majorca – especially the resorts of Pollensa, Cala D'Or and Palma.

2. Malaga – from the black sand of Playa de la Malagueta, to the quieter beaches a short drive up the Costa del Sol.

3. Tenerife – with white, golden or black sand beaches, it was felt there was something for all.

4. Croatia – from the spectacular Golden Horn, to the long sandy Nin's Lagoon.

5. The Algarve – with over 100 miles of spectacular beaches, varying from the surfing heaven of Praia da Arrifana to the secluded Praia da Marinha.

The best city break

It seems old favourites really can't be beaten, with cabin crew preferring to visit cities which combine history, shopping, culture and great hospitality. The city with a beach, Barcelona, was the clear favourite with capital cities - Rome and Paris - neck and neck for the second spot, the fourth favourite was the popular city of Prague and the fifth favourite was the stunning city of Venice.

The best locations for retail therapy

If you're planning on hitting the high street for a spot of serious shopping, then Jet2.com's cabin crew know the best destinations for picking up bargains or splashing the cash.

1. New York – from Bloomingdales and Macy's to Fifth Avenue there's great shopping at stateside prices.

2. Turkey – open air markets, chic boutiques and Turkish bazaars, whether you're a haggler or high end fashionista, you can shop to your heart's content.

3. Milan – the home of Armani and Versace, Milan is a must-visit city for lovers of designer labels.

4. Nice – the place in France to see and be seen, with the shops to match!

5. Estepona – this small Spanish town on the Costa del Sol came out high in the rankings, with cabin crew recommending leather goods and the great market.

Dream destination

Even though they spend all their working life in the air, cabin crew still dream of spending their spare time getting on a long flight to some of the world's most exotic destinations. The top tipped aspirational escapes were: the Maldives, Australia, the Caribbean (Barbados), USA and Canada and Hong Kong. Jet2.com's flights from northern airports to Amsterdam, Paris and Barcelona offer the opportunity to connect for a long haul flight to destinations across the globe.

Jet2.com employs 550 cabin crew and 390 pilots across eight northern bases – Leeds Bradford, Newcastle, Manchester, East Midlands, Blackpool, Belfast, Edinburgh and Glasgow. The airline flies to 49 sun, city and ski destinations, with flights starting from just £9.99 one way including taxes. Customers enjoy friendly low fares, convenient flight times, 22kg baggage allowance and allocated comfortable leather seats.

For more information or to book flights go to Jet2.com. Great value package holidays are also available at Jet2holidays.com. If you are interested in joining Jet2.com's friendly flight team visit jet2.com/careers.