Celebrate all things Mini at Gaydon Mini Festival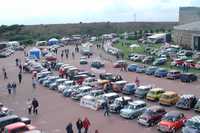 Thousands of people will be celebrating all things Mini at the annual Gaydon Mini Festival on Sunday 3 July at the Heritage Motor Centre.
The popular Festival will feature a host of exciting Mini events including the Mini Sport Concours, Heritage Runs from the MINI Plant Oxford to the HMC for Minis old and new, Mini Market, Mini of the Year competition, Saturday evening party with live music, Mini Owner Club displays and Mini Trade Village.
A Heritage Run of around 40 Mini's including classic models and present day MINI's will depart from the MINI Plant Oxford. Dr Juergen Hedrich, Plant director, MINI Plant Oxford will be waving the flag at the beginning of the Run in Cowley with the procession due to arrive at the HMC at 11:00am. One of the last 150 Mini Coopers to be produced, a 1971 model with registration plate DLT 174J will be a star guest on the Run.
'Mini Sport Concours', in association with Mini Sport and Meguiar's, is a brand new feature for this year's Festival. There will be six different classes: Pre 1970, 1971 – 1980, 1981 – 1990, 1991 – 2000, 2001 onwards and Novice plus a number of spot prizes to give away for Best Interior, Best Paint Work, Most artistic Mini and the car the organizer would like to take home with them. The winner of each category will receive a Meguiar's Show N Shine set and a trophy. There will also be an overall winner who will receive a large Meguiar's Show N Shine set and a fantastic cash prize of £250!
A Mini party with free children's entertainment, Bar and Hog Roast will be held the night before the Festival on Saturday 2 July. Two local talented five piece bands will be performing at the party. 'Elise' are a post hardcore Rock band from Stratford-upon-Avon and 'Out of Ashes', who originate from Leamington Spa, play a mixture of their own songs, in their unique indie/rock/jazz style as well as covers.
There will also be plenty of activities for children to enjoy during the Festival plus the chance to see the new Sci-Fi at the Movies Exhibition, giving visitors a unique opportunity to see original artefacts, replica models and costumes from favourite Sci-Fi movies, brought to you in association with Skywalkers Promotions.
Emma Rawlinson, Event Executive for the Heritage Motor Centre stated "The Gaydon Mini Festival is a fantastic family fun day out and not just for Mini enthusiasts! With our Heritage Run, Mini party, Mini Market, Mini Sport Concours and plenty of children's activities, the Festival has something for everyone!"
Advance tickets for the Festival cost £11 or £14 on the day for adults, £5 in advance or £8 on the day for children and £30 for an advance family ticket or £40 on the day. Camping is available on Friday 1 & Saturday 2 July. Prices are £15 in advance or £20 on the day.
The Gaydon Mini Festival is just one of many exciting and unique motoring events held at the Heritage Motor Centre in 2011. To find out more information please visit the website at: heritage-motor-centre.co.uk