Family homes in Telford selling fast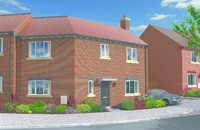 Parents hoping to move home to be near a new school in Telford could soon find they have left it too late.
Crest Nicholson now has just three family homes available at Lightmoor Green, close to the new Lightmoor Village School.
Amanda Benjamin, sales manager for Crest Nicholson, commented: "Parents have been keen to snap up homes at Lightmoor Green so that they are in the catchment area for the school. With just three three-bedroom homes available in the current phase, I would encourage those want their children to attend the new school in the new academic year in September to visit Lightmoor Green today to be in with a chance of purchasing one of the last family homes available."
The three-bedroom homes at Lightmoor Green are on the market from £152,950.
With the help of Crest's EasyBuy scheme customers can stretch their budget and reduce their initial outlay to just £130,008.
"Time really is of the essence as once these three properties are sold it will be next year before more family homes are available as apartments make up the remainder of the current phase," Amanda explained.
"People who perhaps want or need to move but think they can't afford to could discover their dream home is within their reach thanks to EasyBuy. Designed to make homeownership more affordable, the deferred payment scheme allows customers to own 100% of a new property from day one but pay just 85% now. Our sales team will be able to guide purchasers through the scheme, making it as quick and simple as possible."
Unlike shared ownership schemes, EasyBuy, customers will own 100 per cent of their home from day one. They pay no rent or interest on the outstanding 15 per cent for the first five years and only a nominal amount of interest thereafter.
The loan is paid back as 15 per cent of the property's open market value at any time up to resale or after 10 years, whichever is sooner.
Lightmoor Green also includes a choice of one and two-bedroom apartments. Priced from as little as £85,950 they're ideal for first time buyers.
Lightmoor Green is within easy reach of Telford town centre, with good commuter links across the Midlands via road and rail.
To be in with a chance of purchasing one of the final family homes or one of the apartments at Lightmoor Green, visit the sales office and show home, open daily from 10am to 5pm.