Captain Jack Sparrow meets 'pint sized pirates' in Wragby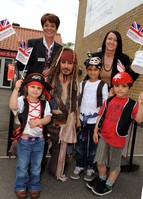 From the High Seas to the shores of Wragby in Lincolnshire – Linden Homes gave a hero's welcome to Captain Jack Sparrow as part of its Armed Forces Day celebrations.
The prolific pirate and modern day hero swashbuckled his way to the Carpenter's Lodge development to help raise awareness of Armed Forces Day, as well as meeting and greeting young fans.
The event was part of a series of action hero visits at Linden Homes development around the region – where hundreds of pounds was raised by the housebuilder, who donated £250 from each reservation taken over the weekend to its chosen charity, Help For Heroes.
Linden Homes sales and marketing director Steve Garton said: "As a company, we have a long and successful relationship with the armed forces both here and overseas.
"We wanted to show our support for those men and women who do, and who have, served our country – and thought we'd bring along a hero of our own who seemed to really meet with the public's approval!"
The Wragby development is open from Thursday to Monday from 10.30am until 5pm.