Chevrolet centennial spectacular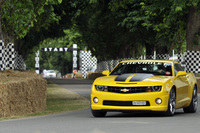 One hundred years on the highway is one helluva road trip! And that will be the theme running through Chevrolet's on and off-track action as the Goodwood Festival of Speed roars into action this week.

The iconic American brand returns to the Goodwood Festival of Speed in 2011 with a larger stand to mark is 100th birthday – and a whole host of treats for the visiting public.

As well as launching the new 5-door Cruze Hatchback to the public, Chevrolet will be showcasing its entire 2011 model range, including the all-new Aveo (due in the Autumn) and the New orlando and Captiva models, which have already won much critical acclaim as the brand has transformed its model range.

As well as the mainstream models, the range-extending electric Volt, 2011 USA Car of the Year, will be making its UK debut at the festival, alongside the first UK appearance of the new European specification Camaro, which will be shown in both coupe and convertible forms.

The cars will be displayed against a fascinating backdrop – a journey through Chevrolet's history in the form of a road trip, with a distinct Americana theme. Iconic models from the company's past will also star at the festival.

Running up the hill will be a multitude of Chevrolet icons – the brawny Corvette ZR-1 and Camaro, with 2010 British Touring Car champion Jason Plato at the wheel, along with the Volt – the very car that epitomises Chevrolet's 100 years of progress.

And to mark Chevrolet UK's Motorsport involvement, BTCC drivers Jason Plato and Alex MacDowall will be attacking the hill in their distinctive blue Cruzes, while at a more grass roots level 16-year old Cameron Davies – the youngest ever works-supported rally driver - will be showcasing his new 1.0-litre Formula 1000 Spark.

Chevrolet UK Managing Director, Mark Terry, said: "The Goodwood Festival of Speed is as much of an icon as Chevrolet itself, and we're proud to be such a significant part of this year's event. After all, it's not every day you celebrate 100 years!

"Yet despite 100 years of progress, by the end of 2011 there won't be a car in the Chevrolet range that's more than two years old. It's a great time to grow the brand – style, innovation and confidence run deep through our cars and our team, and now's when we make it happen."

The Festival of Speed kicks off this year on Thursday June 30th with the Moving Motor Show, where guests can drive the hill themselves, and runs until Sunday July 3rd.

For more information on the festival visit goodwood.co.uk, or for more on Chevrolet and the stunning new models in its line up, go to chevrolet.co.uk.